Frankie Hall, 1925-2017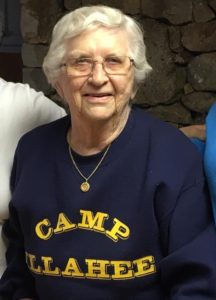 It is sometimes said that it's not the years in your life but the life in your years that counts. The death of Dr. Mary Frances (Frankie) Hall on May 20, 2017 represents the culmination of a life that had an abundance of both. She was born January 9, 1925 in Jacksonville, Florida and had lived in her treasured mountains in Western North Carolina since 1969. Tremendous friendships, worldwide travel, rich pastimes and lifelong learning marked her journey.
Frankie's educational pursuits started at Landon High School in Jacksonville, FL but it was the garnet and gold of Florida State University that punctuated her career and her wardrobe throughout her life. She earned a Bachelor of Science as part of the last class to graduate from Florida State College for Women before it became Florida State University, and remained a lifelong Seminole fan. Following graduation from FSCW, she taught at Maitland High School in Daytona Beach, FL before returning to graduate school at Iowa State University, where she earned her MA And PhD degrees. For 20 years she served on the faculty of the Florida State University in the department of Physical Education, where she chaired the graduate program and coached the first women's track team at the university. Long before the days of well-appointed locker rooms and corporate sponsorships of athletic teams, Frankie transported her whole team around the Southeast in an old station wagon and borrowed uniforms from the men's team to dress for meets.
A consummate teacher and mentor, Frankie had a particular interest in helping young women to achieve their potential.  In addition to her years teaching high school and college, for 15 years she owned and directed Camp Illahee, a summer camp for girls in Brevard, NC. Hundreds of former campers and counselors have fond memories of Frankie's guidance and encouragement during and beyond their camp years, interspersed with moments of terror when they were assigned to sit at her table in the dining hall.  Frankie's love of and devotion to camping was evident in her service to the American Camping Association, where she served for 6 years on the Board of Directors as National Secretary, and was instrumental in revising and upgrading the standards used in accrediting youth camps in the United States and in training the accreditation evaluators.  In addition, she served as an elected officer in several other regional and state camping organizations, and was one of four national consultants to design and implement the program for training and certifying camp counselors to teach outdoor living skills.  She is listed in Who's Who of American Women, 8th edition.
After retiring in 1984, Frankie moved to Leicester, NC, and became an active volunteer, serving on the Boards of Directors of the Literacy Council of Buncombe County, Mountain Housing Opportunities and Meals on Wheels. She was an active Friend of the Leicester Library and a long-time contributor to the Health Adventure, where she was the recipient of the 1996 TAM Award for outstanding volunteer service. The latter was undoubtedly awarded for her willingness to dress as a potato, toothbrush, or any number of other characters, in order to entertain and educate children about health.
Frankie traveled in 48 states and on six continents, espousing the view that two things in life – travel and paper towels – were investments as opposed to luxuries. A lover of nature, she delighted especially in waterfalls and the unexpected creatures that visited her yard in Leicester, especially Momar the Skunk and HOD 622, the ceremonial dove who lost her way after being released at a memorial service in Anniston, Alabama. What a lucky bird to have ended up 7 weeks later on a cold New Year's Eve on Frankie's back deck!  Who else would have taken her in, noticed her leg band, researched her story and returned her safely home? Their adventure was even chronicled in the Leicester Leader.
A person with many interests, Frankie was an avid golfer, beekeeper and skilled woodworker. She was always willing to make a personal sacrifice to build a beautiful object, as evidenced by the missing tip of the fifth digit of her left hand. Testaments to both her woodworking and teaching were the totem pole and pulpit made for Camp Illahee, projects for which she mustered friends and family to spend memorable weekends in her basement shop in Leicester learning to carve. Within the last few months before her death, she worked with several close friends to build tables from slabs of a white oak tree that had died in her front yard.
Frankie is survived by her sister, Joyce Arnold of Jacksonville FL; nieces Paige Vereen French of Jacksonville and Robin Kendrick of Atlanta; nephews Randy Hall of Atlanta and Keith Hall of Jacksonville and their families. She was predeceased by her beloved sister Jene Hall (Sis) Vereen of Jacksonville, brothers Howard Hall of Hialeah and Ronnie Hall of Jacksonville, and niece Linda Hall of Ocala. She is also survived by many friends whom she greatly appreciated, especially the Hearts of Gold Girls (HOGGS), and numerous former students, counselors and campers who witnessed her going gently, firmly and bravely through the years.
A memorial service will be held at Camp Illahee at 2 pm on August 13, 2017.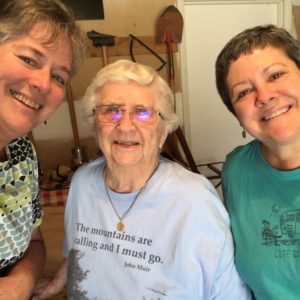 (Written by Jenny Womack, left, Illahee staff member 1981-1986)