Our Heavenly World
The "Heavenly World" comes to life when campers arrive! Fern, rhododendron, poplar and hemlock shade our open air cabins and activity buildings in a lush forest setting. A spring fed lake, situated between the dining hall and McLeod Lodge, is at the heart of camp and looks much as it did in 1921. The Wishing Well and our nurses are nearby and next door to Hillbrook, allowing easy access to the youngest campers.
Pinecrest, home to the Strayhorns, was built in the 1940's and is in the middle of Pineview, the cabins for our oldest camper group. They overlook the canoe lake and riding facility with its big red barn, pastures and covered arena. Pineview girls enjoy evenings around the outdoor basketball court or playing in the director's back lawn.
We invite you to explore the wonders around each bend. A gymnasium rec lodge, five tennis courts, a climbing tower with ropes course, riflery and archery ranges, the woodshop and Busy Bee art studio are where lots of fun takes place at camp. Enjoy a virtual tour with Gardner and Schuyler and let them guide you through the heavenly world!

Join Gardner and Schuyler for a tour of camp!
We feel blessed to have Carter at Camp Illahee. We can't thank the staff enough for the time and energy they put in to camp and each camper. I love that individuality is celebrated and appreciated in every girl….if every girl could take a little Illahee spirit into the real world what a better world it would be!
Cassie, Carter's mom
Shelby, NC
Camp Tour and Mascot
Of course, the "real deal" is the best!  Camp is alive during the summer when we schedule tours at 10 and 3 most days.  Minutes from downtown Brevard, and under an hour from Asheville, NC, we invite you to tour in person.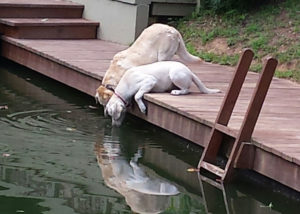 Families who visit Illahee are greeted by camp directors along with Liza and Henry, our two yellow labs. Always ready for attention, Liza will stretch out on the porch ready for a belly rub and Henry will bring you his favorite ball! Their favorite activities are swimming, tennis and rest hour in front of the dining hall. They also will love to join you and your counselor guide for a walk about camp- if you invite them!
For more information or to schedule a tour, call (828) 883-2181 or email our office.  And don't worry! It's completely normal to feel like a kid again when the campers serenade you with "Welcome to Illahee!" or impress you with their speed on The Streak….Illahee's awesome waterslide.