Every Girl is Important
Camp Illahee was founded in 1921 by a Mississippi educator and his wife.  Hinton and Francis McLeod established an environment for girls to develop and flourish.  This commitment has remained throughout camp's 100-plus year history and continues with Illahee's fifth set of directors, Gordon and Laurie Strayhorn.
Illahee's camper-centered focus has been one of camp's cornerstones.  "We want each camper to feel recognized, to know that she is important to her counselor, her fellow campers, and to us," says Gordon.  "We want her to know she's being heard, even if she's quiet.  We want every girl to know just how important she really is."
Come Try Everything at Illahee!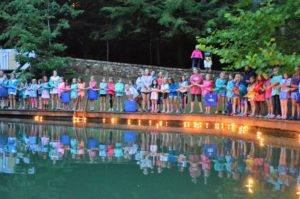 Traditions are also a special part of Illahee – Campfires, Sunday's worship in the Woodland Chapel, fried chicken dinners, floating wish boats on the final night of the session – are all part of the Illahee experience.  Director Laurie Strayhorn observes, "Children need tradition in changing world.  We find campers looking forward to and counting on these events now as much as the girls of the 1920's did.  Songs around a campfire and living in an open air cabin are experiences that girls today enjoy just as much as their great-great-grandmothers did."
Illahee's framework of tradition allows for innovations and improvements to the programs. The Strayhorns are committed to making Camp Illahee the best summer camp for girls where each camper can expect to have a great experience. Varied activities from arts to adventures, Illahee's Hannah Ford Farm outpost, a high ropes course, extensive horse-back riding facility and newly added pickleball courts are recent improvements to camp's program and facilities. Only a few minutes from charming downtown Brevard, Illahee's setting is a world unto itself.
Illahee is hands down the greatest gift we could give our daughter. She absolutely loves every moment at camp and comes home with such confidence and peacefulness. I would recommend this experience to anyone looking for a loving, carefree, Christian adventure of a lifetime for their daughter.

Ashley, Kate and Livy's momNorcross, GA
"Be a Great Girl"
Illahee is a Christian community embracing each girl with a spirit of love and acceptance.  Cabin devotionals, Sunday services, and counselor guidance reflects that spirit.  Many campers talk about camp as a place where they feel closer to God and can grow in their faith.  The break from social media allows girls to enjoy the moment and to focus on relationships that are present around them.

Our motto:  "Be A Great Girl" inspires campers to develop qualities that will serve them for a lifetime: confidence, conviction, integrity, and an abiding respect for the wonders of the natural world.   In a supportive atmosphere, Illahee girls forge friendships and experience a wide array of activities that encourage self-reliance, faith and self-esteem.  We also strive to foster imagination, help campers develop a strong sense of self and promote the importance of community.
Illahee's Honor Code is at the heart of the camp community.

"On my honor, in the spirit of Illahee, I promise to be trustworthy, helpful, honest, and true, and to encourage others to do likewise."