We are so happy that you have interest in learning more about the Art staff positions at Illahee! Through our activity offerings we aim to keep traditional camp crafts alive through Arts and Crafts, Fiber Arts, Woodworking, Ceramics and Painting. The goal of Arts at Illahee is to provide a designated time and space for camper creativity within the given medium. The staff's responsibility is to provide exciting projects with an appropriate level of challenge for different ages and to guide camper creativity toward a worthwhile end product. If you are interested in sharing your passion in any of these areas, we would love to hear from you!
General Arts and Crafts
Mosaics, basketry, paper mache, candle making and beading are examples of past projects. The sky is the limit!
Fiber ARts
Lap looms, Inkle Looms, Floor Looms, Knitting or crochet. If it is fiber, there is a project waiting!
Woodworking
Starting with a design, campers create a project from beginning to end, learning the process of construction and the safe use of power tools.
Ceramics
One of the most popular activities at Illahee, campers learn the basics of hand building and wheel throwing.
Painting
Still life projects and Landscapes in either watercolor or acrylic are the starting point for campers taking painting.
Cooking
Campers enjoy learning the fundamentals of cooking by making healthy snacks and yummy deserts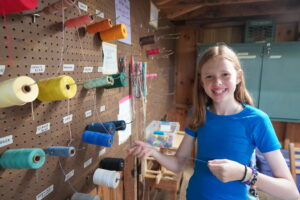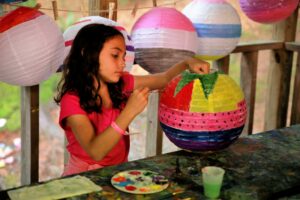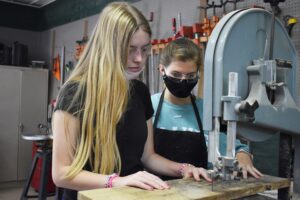 Essential Functions of leading the Arts at Illahee
Ability to effectively communicate, teach and work with campers of  different ages and skill levels.

Ability to observe and assess the behavior of campers and staff in order to monitor safety and enforce appropriate rules and regulations.  Be able to intervene when it is for the purpose of maintaining a safe activity.

Ability to identify and respond to any environmental hazard or emergency through the effective use of sight, sound, and smell.

Having the experience to teach and train other staff to effectively assist in the specific activity.

Physical ability to respond to situations requiring first aid.  This includes being of sound health and having good mobility.

Possess the physical strength and endurance to maintain constant supervision of activity.
Staff Benefits
competitive pay based on experience
room and board provided (housing limited for adult specialty staff)
laundry facility on camp (done weekly for staff)
applicable certification opportunities explored
discount cards for town businesses
Resume Building Skills Gained
daily practice of critical and creative thinking, collaboration, communication and problem solving
regular opportunities for responsibility, facilitation, mediation, taking initiative and following through
community engagement modeling and teaching pro-social behaviors such as cooperation, resilience, tolerance and inclusion