an interview with gardner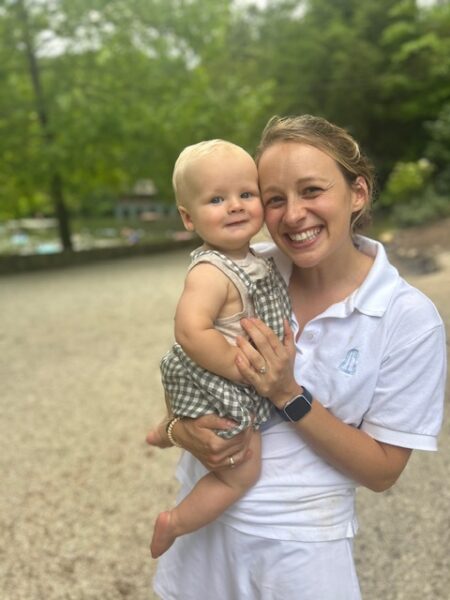 What are you most excited about as you begin your role as executive director?
I am most excited about dreaming, setting goals, and adding fresh changes to Illahee. I get excited about new programs and activities, and making updates to the facilities. I am excited to get to know new camp families and to watch campers begin their first summers at Illahee, and to be part of their lives as they become staff members! I am also excited about working with our year-round team to put together the best staff ever. I love that I get to step into this role with Lucas, and am grateful that we get to raise our family in such an amazing environment.
What experience do you bring that will serve you in this role ?
I started working at Illahee full-time in 2016 after graduating from UNC-Asheville. I was the "Intern"- a role we had never really had at camp, nor was there ever really an official job description. A lot of my early duties included answering the phones, opening mail, filing and alphabetizing documents, and selling Gordon's retired tech gear on Facebook Marketplace. Surprisingly, and probably thanks to nepotism, I continued on into my second year as an Intern in the camp office. We joked that it was my "Fellowship" year. I started running camp's social media, the Ship's Store, helping with recruiting and hiring, and learning more about the behind the scenes workings of Illahee, which helped me move into a director role. Growing up at camp and watching my parents do this job for close to 30 years, I have always been aware of the work that goes into making the "camp magic" happen; however, it wasn't until working in these different roles that I truly understood all that goes into camp and the importance of each person who is and has been a part of this community!
An Interview with Lucas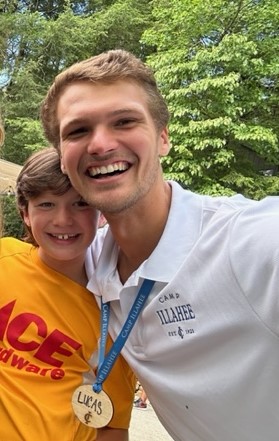 What are you most excited about as you begin your role as executive director?
I'm learning that the greatest joy and fulfillment we can experience in our lives comes when we serve and connect with others. At its core, being an Executive Director at Illahee is just that. One of my biggest priorities will be to help each girl who comes here feel seen, loved, and to have the most amazing experience. To get to serve alongside Gardner is the biggest blessing that I could have imagined. Not many people get to be in a job focused on fun, on joy, on experiencing this amazingly beautiful world, and on supporting a place and a staff that give so much to so many young women. 
What experience do you bring that will serve you in this role ?
For three years, I served as an associate pastor at a Presbyterian church in Columbia SC. I worked a lot with youth and started a ministry leading adults on backpacking and kayaking trips. I enjoyed teaching, preaching, sharing stories, and connecting with an amazing congregation and community. Most of my jobs have revolved around being outside, serving others, solving problems, and working with kids. Working as a children's ski instructor in Beaver Creek Colorado, a backpacking guide in the Pacific northwest, a hospital chaplain in Raleigh, a ropes course facilitator and whitewater canoe instructor in college, and three years helping to lead a thriving community of funky people in Columbia, SC are all diverse experiences that I bring to this dynamic and fast-paced environment.  I'm most excited to continue learning from all the wisdom surrounding me.
gardner, cont.
What Goals Do YOU Have?
My immediate goals are to learn as much as I can from those around me – to work to maintain childlike wonder and not to be scared to ask "why"- why we do things, why we make decisions. Strong institutions start with their "Why" when making decisions. I hope to keep this as a central focus. It's important to know what you don't know, and I think it can be easy to step into a leadership role and feel like you have to know all of the answers. We are fortunate to be surrounded by a community of capable people and the best team around. Another goal is not to take myself too seriously and to say "YES" as much as possible! I love that camp is about fun and being silly, and I want to remember this on the days that feel especially challenging.
What Do You find special about the Illahee Community?
I love that Illahee offers such a wide variety of activities for so many kinds of interests. Girls can explore these whether they are skilled or not!  The love and care that staff put into campers is incredible and sets the tone for a loving community. We want each camper and staff member to feel heard and valued. Learning to be successful within the camp community creates kinder individuals who can serve their own communities in a better way. Camp empowers girls to be confident, and to be the best versions of themselves.
What do you hope to continue at Illahee?
I love so many of the traditions at camp, like the songs that we have been singing for generations (maybe a little more off-key now). As an Illahee alumna myself, it is always special meeting Illahee alumnae and hearing them belt out "Welcome to Illahee" or "On my Honor," while reminiscing about their time at camp. I love Sunday worship and campfire, and Sing Around the Lake and Final night. Traditions aside, I hope to continue the spirit of love and kindness that Illahee fosters. Illahee is a welcoming community, and I've felt that since moving to camp in 5th grade. It's a safe space where girls can be adventurous and try new things and meet friends from all over. They can be fully present away from screens and social pressures, and they can be silly and laugh. Laughter and silliness is so important!! These values will always remain central to Illahee.
how do you feel about the future of camp?
It's pretty incredible to be a part of something that has remained relevant for so long. I think the case for camp has only increased throughout the age of technology and that kids (and adults) need it more than ever! I am looking forward to watching young women grow as individuals and have some of their most transformative experiences at Illahee.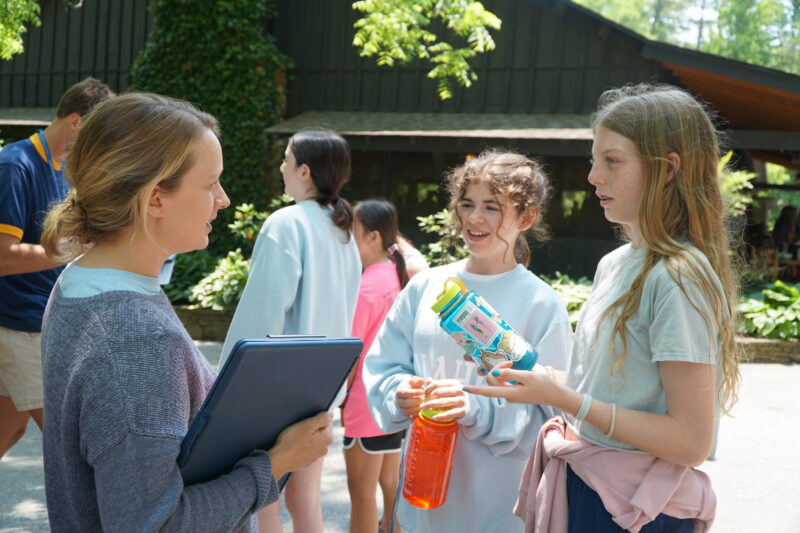 Lucas, cont.
What Do You find special about the Illahee Community?
The diversity of engagement at Illahee helps make it unique. We're not just a sports camp, we're not an art camp, we're not just an outdoor adventure camp, or drama camp, or Christian camp; we're all of that and more! Illahee is special in that it allows girls to tap into their unique interests and passions within a larger community. Girls realize that although they might seem different from some of their fellow campers, they actually have so much in common. We all want to be loved, we all want to be seen, and we all want to experience plain old fun!
What do you hope to continue at Illahee?
Gordon and Laurie are handing Gardner and me a ship that is steaming along in a great direction, polished to perfection, and full of awesome campers and staff. We're grateful for the ways that they have improved and cared for this place for over two decades. Now we get the chance to expand on the amazing programs and traditions that exist. I hope never to be afraid to try new things, new activities, and to be creative with the way we do things at Illahee. I want camp to serve as a catalyst for young women who can come here and be transformed when they return home. In a world built on speed and screens, we're all realizing the benefits of slowing down, getting outside, and adventuring beyond the realm of comfort. I want Illahee girls to leave camp with new experiences in the outdoors and real life hard and soft skills that they'll take with them wherever they go. I look forward to exploring the faith-based and spiritual aspects of encountering ourselves, God, and one another when we intentionally wander into the natural world.
how do you feel about the future of camp?
Edward Abbey, in one of my favorite books Desert Solitaire writes that, "Wilderness is not a luxury but a necessity of the human spirit, and as vital to our lives as water and good bread." Camp is its own wilderness of sorts and is necessary for the souls and spirits of our young people. The need to send kids away to be loved, supported, and challenged by people other than their parents is only growing. In a world where we constantly are ranking one another by grades, scores, and achievements, there is something beautiful (and rare) about the non-competitive culture of Illahee that allows girls to simply be kids. Illahee is indeed a special place.