March 31, 2023
As we enter the 4th camp season since the start of the Covid-19 pandemic, we plan to return to a normal camp experience- changing tables in the dining hall and relaxing cohorts.  Illahee brings girls from many different communities to live together closely.  That creates the magic of camp.  But it also brings a "petri dish" of germs!  Because of this, we work to put practices in place to help mitigate the spread of any communicable illness in camp- whether Covid-19, Flu, Strep, or Norovirus. For this reason, it is important that campers come into camp healthy and rested.
Some updates for the 2023 season:
On opening day campers will have a short health screening including a temperature check upon arrival. A fever over 99.8 will warrant a camper waiting to come into camp.  Likewise, if your daughter has a fever, diarrhea, vomiting, or covid symptoms, within 72 hours of camp arrival, please

contact the office (828)883-2181

 to help plan for her arrival after she is fever/ symptom free.

Within the week prior to camp, let us know if your daughter is exposed to a family member or close contact who has Covid, flu or other illness so that we can better monitor her health while she is at camp.

We do not plan to require a pre-camp Covid-19 test or perform testing during camp for screening purposes.  Only if a camper is showing Covid symptoms, such as fever, chills, shortness of breath, will we test her for Covid, just as we would test for Strep or Flu or for the diagnosis of another illness.  If a camper tests positive for Covid, she will remain in the Wishing Well in isolation until she is fever free for 24 hours and symptom free.  We do not plan to send campers home with mild Covid-19 symptoms. Campers will remain in camp to recover unless a parent prefers to have them at home.

Most campers can recover from mild illness with rest and care at camp.  On the rare occasion that a camper has an illness that lingers or a fever that continues for 3 days it can be in her best interest to recover at home.  Our camp nurse and director can make this decision with the parent if the need arises.

Finally, please read the most recent A Healthy Camp Begins and Ends at Home.

We look forward to partnering with you to provide a healthy, safe, and fun summer! 
Stay Connected!
When you are ready for some Illahee cheer or time with camp friends and families, there are many ways you can connect. Gardner is managing daily Instagram posts.  Our Stories from Camp offers regular updates from the Heavenly World.  And we have lots of Mary Lou's camp videos streaming on Vimeo and You Tube!  We want to know how you are staying connected and welcome your participation.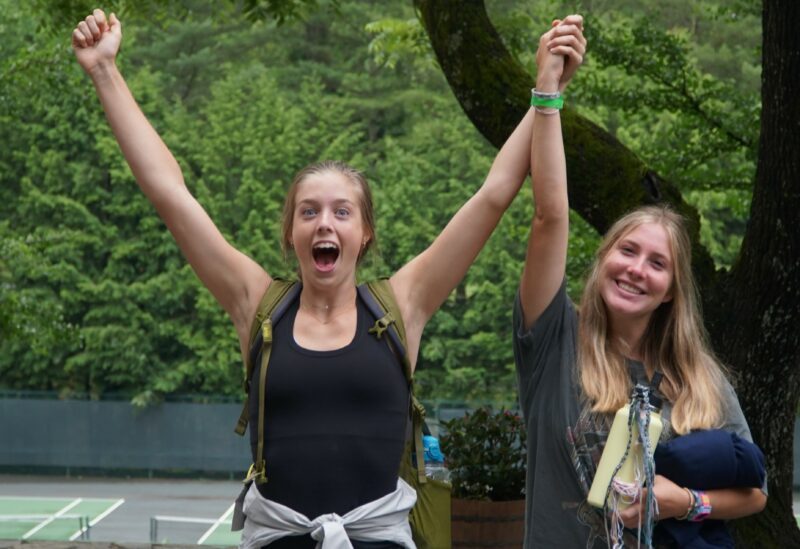 GREAT NEWS! It's going to be the BEST summer EVER!
Past Posts
January 21, 2022
We are looking forward to a fun and successful 2022 summer as we continue to monitor COVID-19 and its evolution.  COVID will likely be with us in some form this summer, but we are encouraged by last season's success and vaccine availability, which helps to lessen the spread and severity of illness.  It is early to know all the protocols to follow for the upcoming season as guidance has been changing. We anticipate implementing some of the layers of protection that were in place last summer to keep our camp community healthy.  Scroll to review those practices outlined in the "past posts" below.  We will update them as we have more clarity this spring.
Other adjustments may include assigning arrival times for opening day drop-off to allow for a smooth transition. Parents will have an opportunity to meet their camper's counselor at the car and will unload and say good-bye there. This proved to be a positive change last summer as campers made an easier adjustment to camp.  They were able to head up to the cabin with their counselor and cabin group and all settle in together.  Details around opening day will be updated on our Preparations page and emailed in the spring.
As we enter the third year of the pandemic, we are so grateful for community and the commitment and excitement for camp that we all share.  Some day we will look back on this season and see how much we have adapted and grown in resilience, and how much we appreciate the opportunity to gather in community.
April 22, 2021
We continue to monitor best practices for operating camp this summer and are encouraged by the strong vaccine response for our campers and staff who are 16 and over.  Managing Covid and keeping our community healthy involves a layering approach which when enacted together, minimizes risk at camp. Currently we are planning the following strategies for operating camp.
Prior to camp, we will rely on families for the following:
Pre-Camp "Quarantine" – For the ten days prior to arrival at camp, girls must follow low-risk behaviors, refraining from sleepovers and activities that mix households. Please do not attend parties, weddings, get-togethers or play dates with friends or family. When outside of a camper's own family unit, it is critical for her to wear a mask and to physically distance.  Avoid indoor dining, sporting events and large group activities.  Be vigilant about avoiding crowds and refrain from unnecessary travel.  We recognize that some campers will be finishing the school year or other educational opportunities prior to camp, and it is critical to wear masks and practice physical distancing during those sanctioned activities.
Please do everything in your power to follow these low-risk behaviors during the ten-day period prior to camp.  Your decisions not only affect your daughter but also her cabinmates and the camp community.
Negative PCR Test – Campers must come to camp with proof of a negative molecular (PCR) test.  (Not an antigen or antibody test.).  The test must be taken within 5 days of arrival at camp and after quarantining for 72 hours. The quarantine- "low risk" behaviors must continue until arrival at camp and after completion of the test. It is important to choose a provider who can guarantee a turnaround in this time as campers will not be able to start a camp session until the negative test results are confirmed.
Health Monitor Form– Parents will be required to complete a health screening log beginning eight days prior to camp. This log is a monitor of symptoms and temperature as well as an update of any health concerns or covid exposure.
During Camp, we plan the following adjustments to a traditional summer:
Masks – Last summer we heard a parent say, "Camp with masks is better than no camp at all!"  We have come a long way since then, and many of us have found that masks are the norm and that the protection they provide is worth the inconvenience.  We plan to require campers and counselors to wear masks when indoors, with others outside of their cabin family, in vans or buses, in camp-wide programs, and anytime we are unable to physically distance.
Cabin Groups– The cabin group is the camper's "family," and masks will not be required inside the cabin unless there has been a Covid exposure.  Additionally, cabin groups will eat meals together "family style." Campers will not be allowed inside of cabins that are not their own and will need to visit friends from other cabins outdoors.  Daily health monitoring and regular temperature checks will be completed by the cabin counselor, and any concerns will be directed to the camp nurses.
Camp Activities – We will plan on gathering outdoors and in well-ventilated areas for as many camp activities as possible.  During activities we will work to build in physical distancing and to cohort age groups where possible.
Testing– Currently, we do not plan to perform camp-wide surveillance testing during the session.
We are looking forward to a great summer and will focus on outdoor activities, mask wearing when appropriate, regular hand washing and physical distancing.  With all the efforts in place, we cannot guarantee that a camper will not be exposed to Covid, and because children are largely asymptomatic, we recommend that your camper quarantine after her camp session and take care around unvaccinated family members.
January 2021
We are well underway with 2021 plans, hiring amazing counselors and developing new programs.   Safety is of the utmost concern each summer, and COVID-19 will require adjustments to some of the traditional ways camp has operated.  We are staying abreast of the CDC guidance and NCDHHS recommendations as well as the recommendations of the American Camp Association and their summaries of last year's successful camp programs.
The February 1st deposit refund deadline is approaching, and our enrollment policy will remain in effect.  We will adjust camp's program based on best practices needed to run a safe camp. There will be more clarity around summer operations later in the spring when we see how far the vaccines have dispersed and how the spread is being mitigated so our plans are a work in progress, but we want to make you aware of some possible alterations BEFORE the February 1st deadline.
Things that we know: 
Pre-camp health screenings will be in place with parents logging the health and temperature of their campers starting 8 days prior to camp.  We will ask campers to follow quarantine guidelines to limit their exposure 10 days prior to camp.
Families may be required to demonstrate a negative PCR COVID-19 test taken within 7 days of opening day.  A rapid test on opening day may also be required depending on testing options and recommendations.  We will make this determination in the spring.
Opening and closing days will look different as we will need to limit visitors into camp.  Arrival times will be staggered, and we may ask parents to remain in their cars.  We welcome first-time families to tour camp prior to the summer or to call with questions.  While this drop off is not the traditional opening camp day, we found last summer that it allowed for a quick good-bye in the car and a smooth welcome into camp.
Campers and staff will be monitored with regular temperature checks and health screening.  If a camper has fever and symptoms of the coronavirus or tests positive, she will be safely isolated, and we will call parents to arrange for a prompt pickup from camp so that she can be treated at home.
We will promote healthy hygiene practices with frequent hand washing and access to hand sanitizer as well as intensifying the cleaning and disinfection practices around camp, including cabin bathrooms and high touch areas.
Camp meals will be served family style and will be enjoyed by cabin group.  We anticipate a tent addition to expand the dining area and to allow for more spacing between tables.
December 2020
The holiday season is here and as most things 2020, it looks a little different. At Illahee, we are enjoying contact with staff and families as we prepare "full steam ahead" for the 2021 camp season.  It seems that our abbreviated 2020 summer has left everyone longing for another summer in the Heavenly World! Camp is full and our staff hiring is well ahead of any summer in recent history. We have lots of all-stars returning, and it is sure to be the Best Summer Ever! After adapting camp last summer to offer a successful two-week program for high school-aged girls, we are looking forward to a full camp season in 2021.  We are monitoring the in-person operations of schools, colleges, and have learned a lot from our peer camps that opened successfully last summer. We are confident that we will be providing a positive Illahee experience for girls in 2021.
While COVID-19 is likely to be with us in some form next summer, the health and safety of staff and campers is always our priority.  Fortunately, camp is focused on outdoor activities with open air cabins, covered shelters, and plenty of space to spread out.  We will continue enhanced health screening prior to camp and on a daily basis during each session, and masks will likely be a part of camp next summer in addition to physical distancing and frequent handwashing.
We are working diligently to prepare for whatever scenario presents itself next summer, including the impact of vaccinations, more readily available testing, and best health practices. We are also reviewing plans to reduce density in cabins, activities, and in the dining hall should the need arise. Best case scenario: all of this is an exercise in planning. The good news is that our successful sessions this past summer reassured all of us (as one great mom emailed) that "camp with masks is better than no camp at all"!
Even with best practices, we cannot guarantee a COVID-free summer.  It may be that parents who are concerned about the health risks to their camper will need to postpone camp to another year.  Please review our refund policy  which applies to any withdrawals from camp.  After February 1st, the $800 tuition deposit is non-refundable.
We are working hard to make 2021 the Best Summer Ever! and will look forward to sharing more specific details in January and throughout the spring as they become available.  Meanwhile, if you have questions, please get in touch with Laurie at laurie@campillahee.com or call the camp office at (828) 883-2181. We are happy to talk with you about any concerns.
We continue to be thankful for each and every one of you for your confidence in seeing us through this challenge! We send our very best wishes for a happy and healthy holiday season and look forward to the time when we all gather in the Heavenly World this summer!
September 2020
A lot has happened since we cancelled the 2020 camp season four months ago. We opened camp to high school aged Illahee girls, and from July 12th to 24th, we hosted Leadership Camp.  You can read all about it in Stories from Camp : Camp with Masks is Better Than No Camp At All! .  This fun filled two weeks was an encouragement to us and to the 100 girls and counselors who attended.
Our 2021 enrollment process opened in early June and most sessions are fully booked for next summer!  We are enjoying the fall season and families are welcome to schedule a visit to camp. This weekend we are hosting an open house for new families!
We continue to monitor best practices around the coronavirus and protocols that are evolving for camps while making plans for a full 2021 camp season!
May 15, 2020
Dear Camp Illahee Family,
We are grateful for the love and encouraging messages that you have sent to us during the emergence of the COVID crisis.  Since the middle of March, we have continued moving forward with plans for operating camp.  As we have watched our counselors leave college to quarantine at home, and campers shift to a virtual school room, we have all known that Illahee girls need camp more than ever this summer!
While continuing to hire staff, open buildings and get ready for the BEST SUMMER EVER, we have been doing research and actively seeking guidance from our medical staff, state health department, the CDC, and the American Camp Association.  We started planning alternate opening day processes, dining practices and ways to run activities safely. We also heard from so many of you- hopeful and prayerful for camp.
As guidance has started to trickle out, we have looked at ways to follow recommendations.  Based on the guidance that is evolving, we have determined that we cannot offer the Illahee we all know and love.
Camp is about community- coming together to sing around the campfire…sharing family-style meals in the dining hall…walking arm in arm with a new friend…squeezing into the camp bus for a trip to Sliding Rock and Dolly's.  Camps evolve, and while it's not unusual to change over time, the restrictions needed to open camp this summer…if we are even able to…don't allow us to give you the best of Camp Illahee.
We are heartbroken to let you know that we will not be opening camp this season. 
For the past six weeks, we have prayed daily for wisdom and discernment and as painful as this is, we are confident that it is the best decision.  In 30 years as camp directors, Gordon and I have never faced not opening a season, but Camp Illahee…in what would be her 100th, has weathered the Great Depression, World War II, polio outbreaks, and with your help and love, she will weather this pandemic too.
While Camp Illahee – the place- will be quiet this summer, we hope she will be vocal through you. You carry the spirit of Illahee out into the world. Keep that spirit alive throughout this summer as you reach out to your camp friends while we look for creative ways for us all to stay connected.
We cannot wait to welcome you with a great big hug on opening day of 2021!
APRIL 29, 2020
Thank you for your patience and prayers regarding the upcoming camp season.  With May 1 around the corner, we wanted to update you.  Because we are continuing to wait on clear guidelines from our state and the CDC regarding residential summer camp openings, we are extending the May 1st refund deadline.  Tuition less the deposit is refundable for withdrawals made until May 15th.
Since our communication ten days ago, the North Carolina Youth Camp Association has been working closely with the NC Department of Health to establish operational guidelines.  Two days ago, the CDC published guidelines for day camp openings, and they are currently working on residential camp guidelines.  The NC state legislature is in session this week, and the opening of summer camps is on their minds. We have been in active dialogue with them along with health officials and are continuing to wait for parameters from the state. We expeThe health and safety of campers and staff are a priority every summer.  While we continue to learn more about COVID-19, it does appear that children without underlying health conditions, such as diabetes or asthma, are affected more mildly by the virus if at all.  Still, there will need to be adjustments to operate.  We have been making plans for screening procedures prior to camp and upon arrival, and opening day will look different.  We also are working on dining hall procedures and general camp operations that would promote hand washing and additional sanitizing practices.  Like you, we know that summer camp and time outdoors with friends is especially needed this year, and that the thought of camp brings hope.
We will continue to update you when we learn more.  Again, please know how much we appreciate your outreach and encouragement.
April 17, 2020
We are grateful for your encouragement, good wishes, and the prayers shared with us the past few weeks.  Dreams of camp are giving homebound girls a lot of hope right now.  We are remaining patient regarding plans to make changes to our summer, as the situation regarding the COVID-19 outbreak is evolving daily, and we are monitoring developments closely.  The health and safety of our campers and staff will remain our priority as always.
We have been gathering information from key sources as it pertains to camp operations.  The American Camp Association has engaged a team of medical experts who are working with the CDC to develop COVID-19 guidance for camps which should be available in the next few weeks.  We are in close contact with the NC Department of Health and the Governor's office through our North Carolina Youth Camp Association. It is gratifying to see that these decision makers understand the importance of camp. Any state orders, CDC guidelines, and travel restrictions will all be part of our decision process for camp.
Our hope is to be able to have more information by the first of May in order to update you again.  We all want to know what the summer will look like and the waiting game is not fun but is important in order to make the best decision for camp and campers.  Thank you for your patience, your prayers and for your part in the Illahee community.
March 27, 2020
What a week this has been! From mornings where we find it hard to put both feet on the ground to afternoons that bring wide grins from shared videos of lifelong camp buddies singing rounds of the Hallelujah chorus from across the country…we're ready to wake up from this dream and know that you are too! We thank God daily for each of you and for the emails of support and love that have come our way.
Camp Illahee is entering its 100th year this season, and there have been hard times before. Camp has endured world wars, polio and other epidemics, in addition to significant recessions. In our thirty years of camp directing, this by far is our greatest challenge. Camp will make it through this crisis as well and will emerge stronger on the other side. But it will not be easy. As a small business, the potential loss of an entire season means that we could go 22 months between earned revenue (last session 2019 through first session 2021). We remain optimistic, but it is stressful. We have families on payroll that rely on income and health insurance and other benefits…plus there are other operating expenses just "to keep the lights on."
We have always been careful stewards of everything you entrust to us…your child and your money. It is the way we "roll," and though we don't have all the answers in this rapidly changing environment, we do have some clarification that should put your mind at ease:
Will camp happen this summer?
The North Carolina Department of Health and Human Services will issue guidance closer to summer. We will follow their guidance. In the event that we need to cancel, we will make this determination on a session by session basis. As of this letter (March 27, 2020), we still have 10 weeks before the first 3-week session. A lot can change by then. Camp is ready and we are ready if it is clear that it is the right decision to proceed.
If my camper's session is cancelled, will I receive a refund?
 In short, yes. In this event, the absolute best thing you can do to help camp through this challenge is to roll your tuition paid to date over to 2021. Any camper paid in full by the April 1st, 2020 deadline, whose session is cancelled, and who enrolls for 2021, will be considered paid in full for 2021 which will include a discount for any tuition increase for the next summer. Those who make this choice will enjoy the following: 1.) first choice of sessions for 2021 (moving to a longer session will result in payment of additional tuition difference at 2020 rates and will be due by February 1, 2021); 2.) a full refund including the deposit will be issued at any time requested prior to February 1, 2021; 3.) although rates have not been set for 2021, our average cost of living increase has been a little under 5%…so these campers will receive up to a 5% discount for 2021; 4.) the BIG glow you will get from knowing that you helped Illahee continue to offer amazing experiences for girls in its 100th year!
In the event that we cancel your camper's session and you cannot roll tuition paid to date over to 2021, we will refund any tuition when that determination is made.
What if I cancel but my camper's session is still held?
To date, we have waiting lists and have only had two cancellations. Our longstanding refund policy as outlined in your enrollment agreement will be in effect until May 1, 2020. All other policies remain in effect as it relates to cancellation due to illness.
Do I Need to Do Anything Right Now?
Give your camper a squeeze and let her know that we are sending Illahee love her way. Keep us in your prayers and we will pray for your family and the strength that will come from this time together. God is in control and He has blessed our Camp ministry for 100 years, and we have no doubt that he will continue to do so with your help.
March 23, 2020
Camp is family, and as we are separated, we are delighted bythose emails, videos and notes that show that camp is what is on every homebound girl's mind right now. Keep them coming!
We have had a few "what if" questions in the event that camp is cancelled this summer. Know that we are thinking through lots of scenarios and will provide further information if a cancellation of part or all of the summer sessions seems realistic. Our relationship with our camp family has at its core mutual trust. Though we are well into planning for the 2020 season with physical improvements, activity purchases, inventory for the Ship Store, as well as on-going operating commitments, we want camp families to know that their investment is in good hands.
Our refund policy remains in effect currently, and we encourage any camp families with a balance due by April 1, 2020 to pay that balance as doing so will not further risk that payment. Camper withdrawals received by May 1st will result in a refund of all tuition paid to date less the deposit.
Any cancellation of 2020 sessions would be based on the guidance from the North Carolina Department of Health. In that event, we will be creative in making sure that as many girls as possible can come to camp in accordance with that guidance. We have experience in managing illness, both individually and community-wide and even more at providing experiences of a lifetime. This summer into next, more than ever, your girls will need camp, and camp will need you!
Please do not hesitate to call or email Laurie  if you have questions that have not been answered. Pray a lot, love a lot and reach out to someone who may need a word of encouragement!
March 20, 2020
If you are like us, your flexibility is challenged by changing plans and virtual classrooms.  We have been fielding questions and will keep this page updated as it pertains to the COVID-19 virus and camp.  The amount of information in the news as well as email notifications can be overwhelming. We hope this page will serve to answer questions in the coming weeks.
Camp Illahee's current enrollment policy remains in place.  The final tuition balance is due on April 1st.  Tuition less the deposit is refundable through May 1st.  If you are feeling a financial burden due to the current situation, please contact Laurie.
While this is a unique time, a summer outdoors with camp friends and wonderful counselors is months away.  We will continue to monitor updates from the CDC and our local health departments in order to offer the best healthcare practices for our camp community.  On March 27th we will be taking part in a virtual symposium hosted by the North Carolina Youth Camp Association in conjunction with area medical professionals.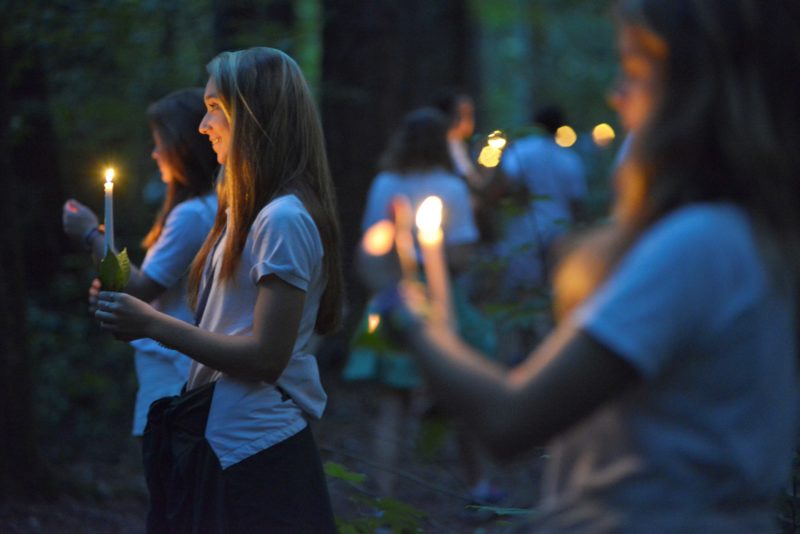 Keep the Illahee Spirit Alive, See you in 2022!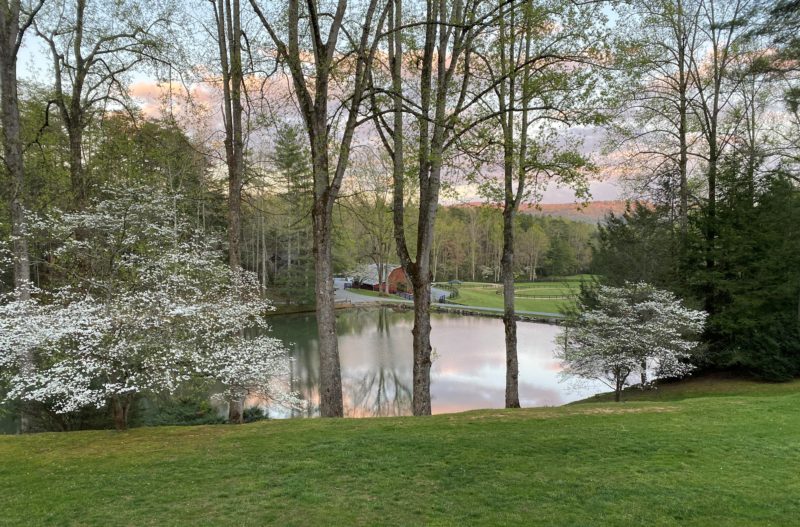 We are especially grateful for Spring's beauty this year.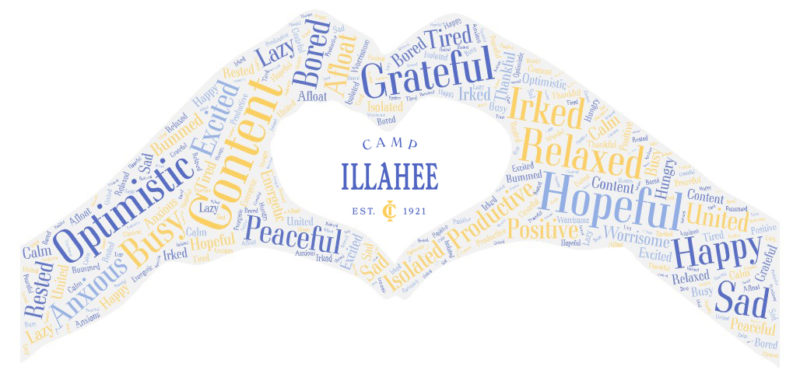 Love to you from camp and from our 2020 staff, whose feelings remind us….
We are ALL in this together!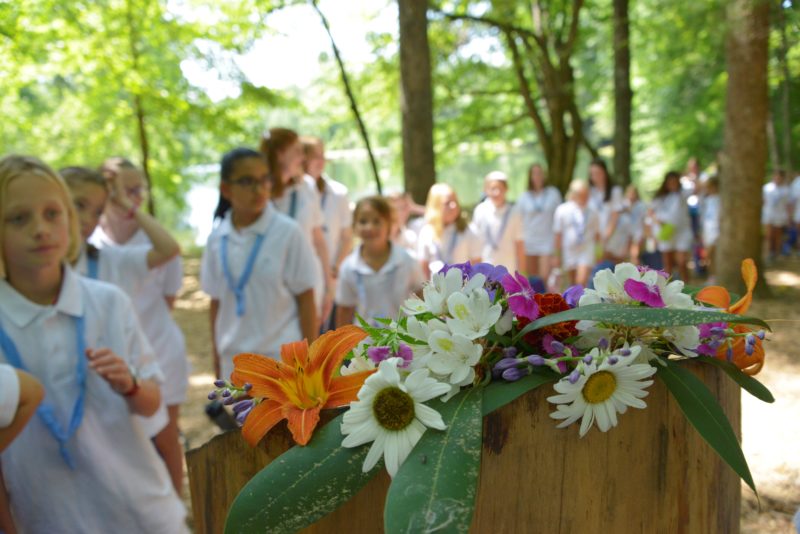 Pray a lot, love a lot and reach out to someone who may need a word of encouragement!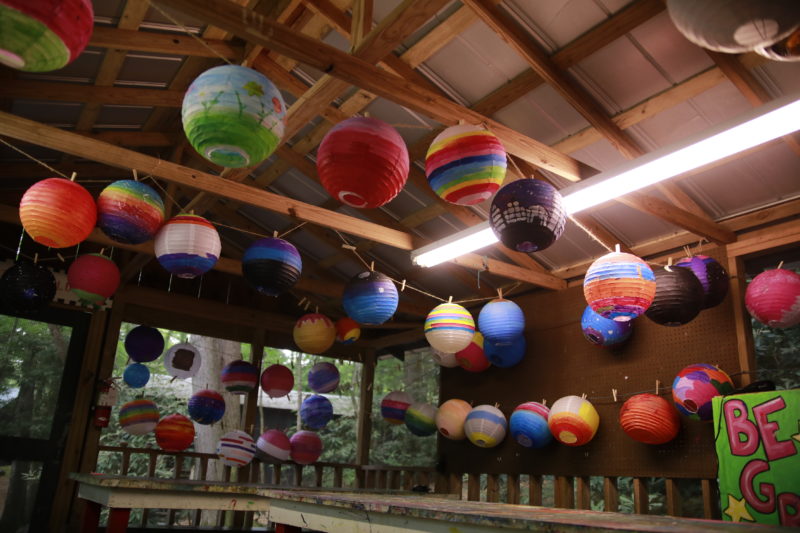 Art is something that makes you breathe with a different kind of happiness    Anni Albers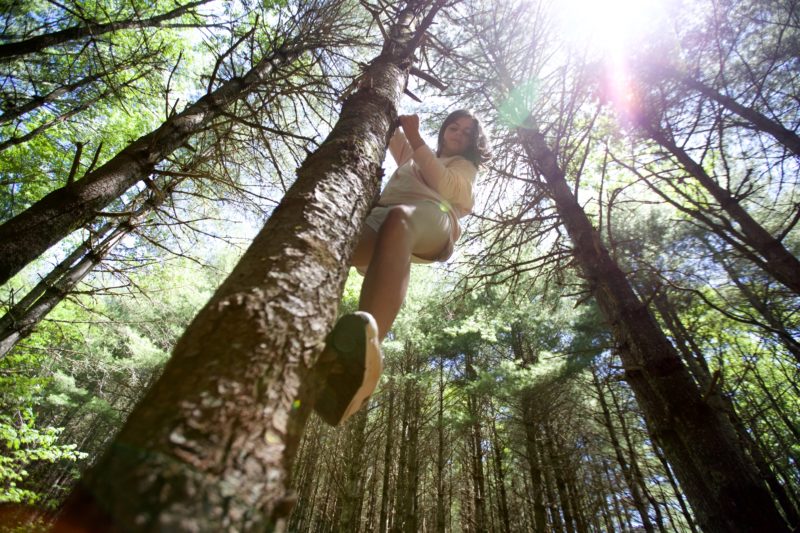 Spend some time with nature. Let it become your good friend.       Bob Ross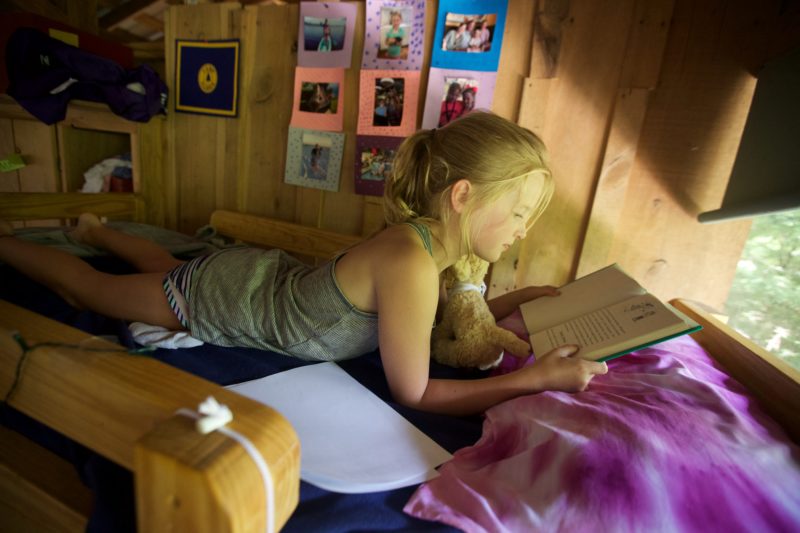 Is rest hour part of your quarantine schedule? We highly recommend it!
Laurie and Gardner share our difficult decision to close camp for the 2020 season