In April a parent from California emailed us a You Tube Video about an American family in South Korea returning to school. Her subject was "Camp with masks is better than no camp." My reaction was "No Way…camp in masks?" On May 15th we had made the heart breaking decision to cancel our season. On July 12th, we welcomed 65 mask wearing campers onto camp. We had felt especially sad for our older campers facing their last camp summers. One camper suggested a Mother/Daughter camp, without the mother… Many of them were sending photos of their friend reunions throughout the southeast. We wondered about a gathering at camp? After an enthusiastic response to a quick parent survey, we opened up two weeks for high school Illahee girls and hosted 100 campers with 65 girls and 17 rock star counselors on camp at a time. The staff had been contracted for the summer and most were slated to be Pineview Counselors or Spark and CIT leaders. All campers and staff committed to quarantine the week prior to camp and to provide proof of a negative Covid test. They also had to travel to camp by car and remain on camp property for the two weeks.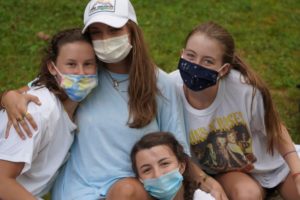 Opening day was like entering camp through the backstage door. Parents remained in their cars when they dropped their mask wearing daughters off at the wood shop. Girls walked themselves to their cabins, all on Hillbrook and Heigh Ho. While there weren't the usual parent reunions and hugs, camp felt normal as we heard the crunch of the gravel, the squeals of excited friends and laughter from the hills. Instead of eight in a cabin, there were four girls and a counselor. The double cabins were cohorts (camp families) and they traveled to all activities together and ate meals together in the dining hall. Girls wore masks in the dining hall and during camp wide gatherings. Rise and Shine was in the rec lodge with cabin groups spread out in their designated areas. There were hand washing and sanitizing stations set up around camp and the dining hall was adapted to a buffet served by leadership and the kitchen staff. It included camp favorites fried chicken, grilled cheese and tomato soup; camp pizza; walking tacos and grain bowls (a new Chipotle style lunch) and of course Aly returned to make all of the camp desserts- dirt cake; cookie pie; 7-layer bars; Hershey pie; home made chocolate chip cookies and lemon squares. Chef Terry took care of breakfast and lunch and Robin and Susan tag teamed dinner with leadership jumping in to help with dishes.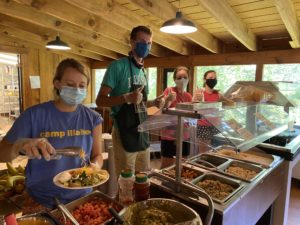 Even with some adaptations, much of camp felt the same. Daily activities included archery, riflery, tennis (and a rocking camper/counselor tournament),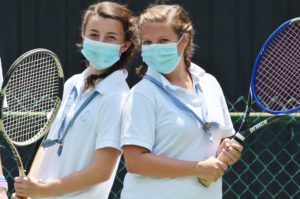 splash, and each cabin enjoyed time on the Beanstalk high ropes course and tubed the French Broad.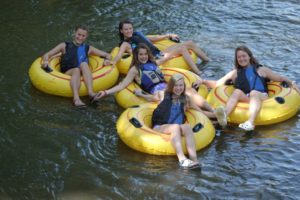 Gordon led the two week campers on a challenging 8 mile hike in Pisgah that included a lunch time rainstorm and a breathtaking view from John's Rock at the end.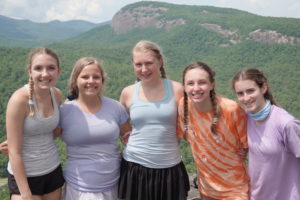 Evening programs included worship in the Woodland Chapel on opening Sundays, a two hour Tennis Ball dance party with DJ Marcus; sliding rock trips; cookouts at the Farm and a spirited game of Capture the Flag; a reverse scavenger hunt and a Spark organized final night with a Road Trip theme. We surprised the girls with our own Dolly's ice cream party at camp; Cheerwine floats; Polar Bear swims; a 4th of July theme day; and CIT led canoe formation with 30 CIT's participating in canoes, kayaks and Adair conducting the group from the diving board.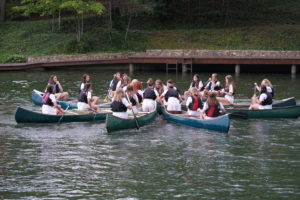 The two weeks went too quickly for us. We loved seeing girls from June, July and August sessions come together to build new friendships. There was no cliquishness among them and more gratitude expressed than ever before. Having spent months in quarantine and with plans cancelled, little moments at camp were appreciated even more. Each grade had daily leadership classes and time in Faith and Fellowship activity for sharing feelings and encouraging each other. Some girls talked about loneliness during quarantine, reflected on time with family or the chance to learn something new. (One camper taught herself pig-Latin which she demonstrated for camp.) Camp offered a respite from the unknown. We are all struggling with what the school year will look like or when we can gather in community again. We are sad for those who couldn't be at camp this summer and hope to welcome everyone back next summer. We are thankful to have opened camp for a few weeks during Illahee's 100th summer, keeping camp's spirit alive.