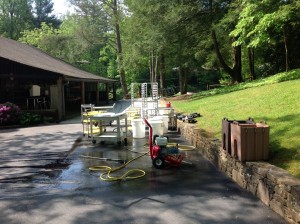 I have the best view outside of my office window.  The rhododendron trees next to the dining hall are in full bloom and the cinnamon fern are growing up around them.  They definitely announce the arrival of summer.  It would be peaceful except for the pressure washing that is taking place next to the dining hall.  If it isn't nailed down, Bill is pressure washing it – including the yellow carts and tables!  In the background the weed-eaters and mowers have overtaken the sound of the birds, and Morgan, one of the camp horses,
was the first to return to the barn this morning!  I'll be the interim "horse whisperer" until the riding staff arrives.  (I hope I can remember how to put on the halter….)
Counselor orientation begins this weekend with the riding staff coming in early for training and time to open the barn.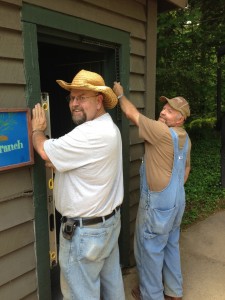 We will begin a lifeguard clinic on Friday evening and offer driver training on Sunday.  The full counselor staff arrives by Monday and the week is filled with activity clinics, moving into cabins and learning the Camp Illahee Culture!  Orientation week is an exciting time as it leads up to opening day when all the campers arrive.  We can't wait to begin- another year at Camp Illahee- the 93rd season and sure to be THE BEST SUMMER EVER!