We woke up on this day before Thanksgiving to snowflakes coming down in camp!  After yesterday's steady downpour, the fresh falling snow is a welcome change and a harbinger of the holiday season.  Kris will be heading south to Atlanta and Dave will be heading north to Ohio this afternoon to meet their families for the holidays.  Our and Gretchen's family will be at Camp Illahee for the holiday.  We'll have three generations including college-aged children, along with Ezra who at age seven can hang with the big guys.  We are cooking a pig for our holiday meal, and I've been online trying to find out how to do that!  I'm thinking (and counting on the fact) that we'll have lots of cooks in the midst to give advice.  In between eating pork, turkey, pumpkin pie and pecan pie, we are going to hike!  I'm wondering how many calories we'll burn heading up John's Rock.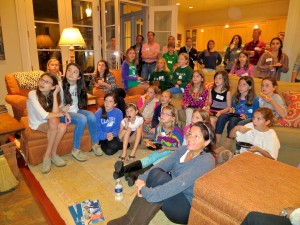 During this season, we are thankful to be stewards of a camp that is four generations strong, watching campers grow up summer after summer and eventually leave the "Illahee nest." One of our long time campers recently was selected, after a competitive interview process,  to join the staff for Teach for America next June.  We are excited for her new adventure, but it's bittersweet as it means her days on Pineview have come to an end.  The other day, as I cleaned out some files in my desk, I came across her 2005 8th grade speech, which was about Camp Illahee.  Written from a 13 year old's voice, she referred to the camp song "Go Gently through the Years" and its lyrics, "Go firmly through the night, but go in peace.  Know for yourself what's right; keep all your goals in sight, for they're a part of you and you're alive."
 "I have learned self-confidence by receiving encouragement from friends in activities, cabin time and every other aspect of camp.  Self-confidence has led me to more independence, and this will help guide me throughout my life… I have learned through camp how to be yourself and to treat people as you want to be treated…Finally, the verse talks about letting the best of you come out. At camp you learn to be comfortable with yourself."
Eight years later, a senior in college, that same Illahee girl is reflecting on her time at camp as she responds to the Teach for America question about being a  "change-maker:"  For this, she is reflecting on her four years as a counselor, a transition she made from being served to serving others:
For the art of change-making. I have spent my summers as a camp counselor, living with cabins of eight awkward, yet inspiring teenage girls. I have spent my summers intentionally wanting my campers to gain strength in themselves, whether that means late-night sidewalk talks, spontaneous dance parties, or swimming in the rain. I have spent my summers embracing the unknown. I have taken campers to the emergency room, interacted with too many bats, and dressed up as One Direction and George Washington. I find joy in never knowing what each day holds. I have spent my summers enthusiastically teaching teenagers to blissfully catch fireflies and sing campfire songs while standing on their chairs at lunch. I have spent my summers loving hard and pushing my campers to new limits, whether it is rock climbing or opening up about their fears. I have spent my summers as a camp counselor because I am a change-maker.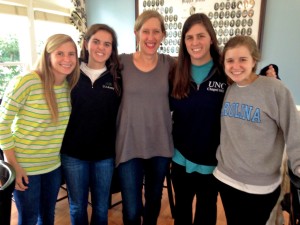 And now she is heading on to make changes in an inner-city classroom where she will need every bit of grit and creativity that she gained through summers at Illahee.  We are thankful for her and many like her who are able to take a little bit of the heavenly world and the strength they have gained at camp out into the world!  We wish for you all a joyful holiday season among your family and friends.