I've been spending more time in my living room re-reading  Jesus Calling and  Oswald Chambers' My Utmost for His Highest, my "go to" devotional guides.  Built in 1947,our big picture window overlooks the canoe lake, the red barn and the empty green pastures.  At this time of year our neighbors use the area as their local dog park and it's reassuring to see them out there enjoying the setting.  For the past 15 summers, Gordon and I have led Tuesday morning Bible studies for our counselors in Pinecrest.  They are lured in by pots of coffee, cinnamon rolls and fresh fruit and the time to circle up in our living room.  Last night I was talking with one of our former counselors who we watched grow up. She's in quarantine in Nashville working from home,  and had just learned that the  project she has been working on all year is being derailed.  When I reached out, she said, "What I wouldn't do for a Pinecrest Bible Study right now!"  That time with the counselors is as encouraging to us as to them.  Our friend and camp videographer  Mary Lou Davis  is often a guest speaker when she is in camp and we both value shepherding these college aged women along.  When I was a student at Rhodes in the '80's I spent many a homesick Saturday in the small chapel near my dorm reading Psalms.  I can remember that journey from my parents' faith umbrella and building my own.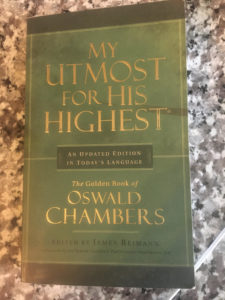 For the past few years, the devotional messages in Jesus Calling teach me more and more about trusting in the Lord who goes ahead of us, living in His peace; living in the moment; looking for Him throughout the day.  This sounds so easy but my restless mind likes to rebel. When I was in college, I thought that I'd have it all figured out by age 30…or 40…or 50.  Hmmm.   I still relate to the counselors and their pressure they feel to please the world or to keep up with what friends are doing and the expectations of success that may be placed on them.  Their time and our time during camp is freeing.  There is so much joy in focusing on the campers and serving their needs.  While we are physically apart now  and united in our isolation, the outpouring of prayers and encouragement are felt.  We hold fast to our Illahee community and the sisterhood we have throughout the world and across the generations.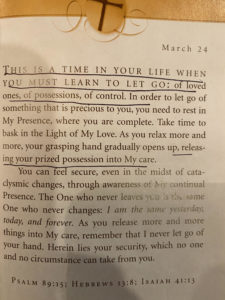 This morning, I thought about the apostle Paul and the amount of time that he was alone, yet the encouragement he gave to his brothers and sisters scattered in the churches in Corinth, Philippi, Thessalonica….His greetings and words throughout  Philippians were filled with such affection and some that I share with you. May God our Father and the Lord Jesus Christ give you grace and peace.  Every time I think of you, I give thanks to my God….whatever happens my dear brothers and sisters, rejoice in the Lord.  I never get tired of telling you these things, and I do it to safeguard your faith. We rely on what Christ Jesus has done for us.  We put no confidence in human effort. Therefore, my dear brothers and sisters, stay true to the Lord.  I love you and long to see you, dear friends, for you are my joy and the crown I receive for my work. Don't worry about anything; instead, pray about everything.  Tell God what you need and thank him for all he has done. Then you will experience God's peace, which exceeds anything we can understand. His peace will guard your hearts and minds as you live in Christ Jesus.
Illahee family, my heart is with you.  I pray for peace in your homes.  I pray for comfort for those who are lonely, for patience and stamina for those who are homeschooling or home working while juggling family life; I lift up the college seniors and high school seniors who are missing out on the graduation celebrations and last weeks with friends.  While the weeks ahead feel a bit daunting,  I pray that we all find joy in the simple daily routines…the birds singing in the backyard, spring flowers blooming, walking in the neighborhood and conversing over the fence.  Peace be with you.
Illahee love,
Laurie