What a week!  When  I watched Jimmy Fallon's Tonight Show Home Edition, I could relate to his opening: "Welcome to day 83 of quarantine." His wife interrupted with-"day six of quarantine."  I've been experiencing what a socially distanced extrovert can do via Iphone catching up with friends and family in the evenings and joining Lindsey and the dogs on  play-dates in the lower pasture. We are continuing to commute from Pinecrest to Curtis Lodge, thankful for our corner offices.  Gretchen's new colleague is son Ezra sharing her office space while working on 7th grade math and language arts assignments.  My grandson, Gardner's kindergartner, Brooks, has perfected his trampoline back flip and is practicing handwriting.  His recent to do list:  1. Wadrpork 2.Streec; 3. Diviboard 4. Taoezan 5. Bascitball 4. Playwithhenre.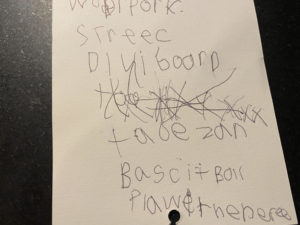 We are trying to stay in the moment and to enjoy this family time while moving toward the summer at camp. Our hearts go out to our high school and college seniors who are having their final year in their schools cut short.  It's such a disappointment for them but we have been amazed by their resilience and positive outlook.  So many are pursuing new hobbies and interests and holding social media reunions.  The other night, we had a Zoom family reunion with my 83 year-old father in law who is home bound in Nashville.  Twelve of us from Boulder, Newark, Durham and Brevard gathered at 8pm to check on Yoda. We are also staying connected to camp families through Instagram.
The camp mowers are rumbling in the background, our first cutting of the season, and the daffodils are blooming.  It's spring and we are thankful to live  in this beautiful setting.  As we look toward Illahee's 100th summer, I hold onto the 121st Psalm. Translated from Cherokee, it includes the word Illahee from which the surrounding hills were named and where our Heavenly World originated in 1921. I lift up my eyes to the mountains- from where does my help come from?  My help comes from the Lord, the Maker of heaven and earth. (Psalm 121:1-2 NIV)   
Our prayers are with you, camp friends and family!
Illahee love,
Laurie