Last week Gardner kicked off a Thankfulness campaign on camp's Instagram and it's been inspiring to see the messages of gratitude come in from Illahee girls. We've put together their thoughts in a Thanksgiving Video.
This is a unique Thanksgiving with Zoom family reunions and smaller tables. Our family has been wrestling with Thanksgiving plans just like you. For the last few years we've celebrated with Gordon and Gretchen's dad and brother's family at camp. Last year was our first without Gordon's mom, and this year his dad will play it safe and stay home in Nashville. We'll miss our traditional gathering. Often it feels like the dogs outnumber the people as Liza, Henry, and Churro are joined by Curtis, Cash and Pemi.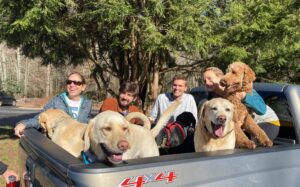 We have to keep them moving with lots of walks and a big Thanksgiving Day hike. Last Thanksgiving, Gordon's dad dropped us all off on Cathey's Creek road and we hiked over the ridge up John's Rock to end 8 miles later at the Fish Hatchery. My brother in law, Blake, is the president of the "wet head club" and we are required to soak our heads in the creek- regardless the temperature. Ezra was the youngest hiker, and he set a pace that left me in the rear of the group.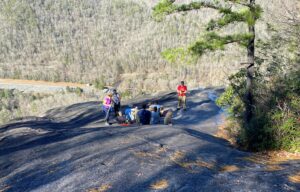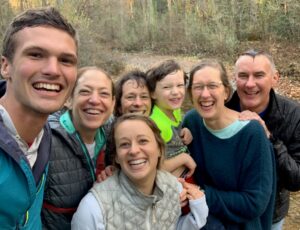 We usually limp home just in time to help Al get the Turkey out of the oven. I attempt cornbread dressing- it's never as good as Gordon's mom's, but I keep trying! Dell makes a bourbon soaked sweet potato casserole; Gretchen brings green beans from her summer garden and a kale salad, and Al has been baking his Aunt Catherine's chess pie recipe each year. My nephew, Will, is the gravy chef and handles the pre-meal countdown. We set the table with Gordon's great grandmother's china and squeeze around it.
Some Thanksgivings are more successful than others. Two years ago, Turner decided we should roast a pig in the ground. With Gordon's help, he, Will, Thomas, and Ezra dug a hole near the barn and buried the 40 pound piglet under hot coals.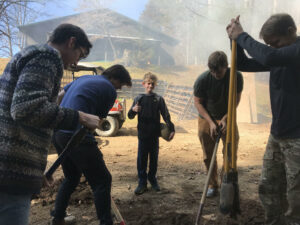 Instead of tending the fire, we left for our traditional hike. Disastrous! We had to finish roasting it on a gas grill and in the oven. That was the year that we decided a vegan Thanksgiving could be an option. Another year I bought a "fresh turkey" and then overcooked it; even the gravy couldn't bring it back to life. Since then we stick with the Butterball and follow the directions carefully. Last year Brooks spent most of the dinner with Henry, under our dining table. (There are no "children's tables" at our house.) My nephew Thomas organized my kitchen cabinets after telling me they were a mess. An aspiring musician, Thomas is the one who accompanies our off -key sing-alongs and the incessant, "can you play…?"
We gather around the table and tell stories, usually interrupting each other. Some years we broach politics and get in some heated discussions, but most years we remember past Thanksgivings, and we tell stories. We feast and enjoy pie and then stretch out in front of TV to watch Love Actually. I think we've watched it for the last five Thanksgivings and it's a crowd pleaser (for adult children) with a great soundtrack that we sing along with….Last year Lucas joined us for the first time and he had never seen the movie. Am not sure he appreciated our tunes and all of our narration. This year Marie will be with us. She's planning to make her family's green bean casserole recipe. Our gathering of 7 will be smaller this year, and we will miss relatives in Nashville, Durham, Portland, and Fairhope, but we are Thankful for each other, wherever we are gathered, and we will look toward 2021 with hopeful anticipation.
Happy Thanksgiving, Illahee family!
Laurie