We just returned from three weeks on the road covering twelve states and 3000 miles- a New England Road tour. This wasn't our typical Camp Illahee fall road show which would include packed living rooms and campers gathered around to watch the most recent highlights video! We had the opportunity to go a different route this year. Since 2018, Gordon has been working on building out a Sprinter van complete with solar panels, battery storage, a water system, composting toilet, interior lighting, insulation, custom built cabinetry and even making cushions for the seats. The month of September was his crunch time with 12+ hour days in the shop working to finish the project started nearly two years ago. We set off on our dream trip on September 30th with fellow camp directors and quarantine buddies, Grant and Anne, heading up I-81 through a rainy VA. First stop- a campground 100 yards off the interstate- the sounds of steady tractor trailer traffic was our outdoor experience. The next morning, we headed north into New Jersey where we made a stop at the Purnell School- a girls boarding school where we taught English for four years before moving south to be camp directors. A masked tour of the campus was led by one of our colleagues from the '80's. We enjoyed reminiscing in the setting where we spent our first married years. We traced familiar roads over Schooley Mountain to join Grant and Anne at her sister's farm in the Delaware Water Gap.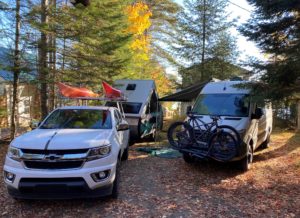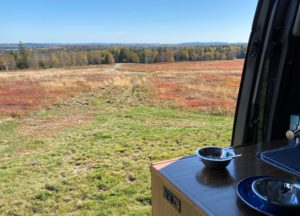 Our tour mostly revolved around camping on the property of family, friends, and friends of friends with stays in Hudson Valley; the Adirondack Mountains; Glover, Vermont (30 miles from the Canadian border); the White Mountains of New Hampshire; and Jonesport in Northeastern Maine. We spent one rainy night camped at a Cracker Barrel in Portsmouth, NH and a beautiful final night camping in a state park in Pulaski VA. I dusted off my mountain bike for this trip and managed to get back in the saddle for several rides. We rode a rail trail that crossed over the Hudson River foot bridge; a mountainous loop in the Adirondacks; a White Mountain rail trail; rural New Jersey roads and on our last day, a 17 mile uphill trail from Damascus VA to White Top mountain on the Virginia Creeper Trail. (The best part was the downhill return!) On other days we hiked-the Delaware Water Gap area, the White Mountains, and even a canoe/hike in the Adirondack Park on St. Regis Lake. It included an 8 mile paddle and 5 mile hike up to the St. Regis fire tower followed by a 1/2 mile portage to the parking area. We were led on that adventure by two of our best friends from our teaching days- Peter and Diane. They are avid outdoorspeople, and we still remember waiting on the top of a mountain in France while Peter dropped off the trail thinking we had followed him. Even with gray hair, he is still guiding challenging adventures! A retired camp director and friend of Grant and Anne's led us on cliffside hikes in Cutler and Lubec Maine, on the Canadian Border.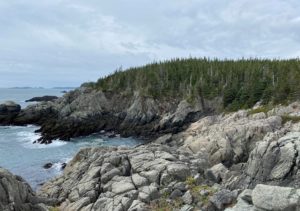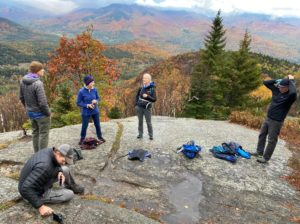 With the pandemic, the trip was a little different than it might have been otherwise- we ate one dinner at a restaurant (outdoors), stayed outside of homes choosing to eat and socialize outdoors around campfires. We consistently wore masks, and avoided retail opportunities (other than a quick pass through the LL Bean store in Freeport Maine.) Most National Park visitors centers and cultural sites were closed and felt eerily abandoned. In Hyde Park we wandered around Roosevelt's home peeking in the windows and we walked through the deserted Vanderbilt Estate grounds. And even with limitations, there was so much that we could do. After a bike ride in Acadia on the Schoodic Peninsula, we picked up lobster rolls and picnicked next to a small harbor watching fishermen return to shore. We met, Robert, one of the last hand haul lobster fishermen, an artist on Beale Island Maine, who brought in our catch for a lobster feast. We walked through Quoddy Head Bog, an 8000 year old highland bog where thousands of pitcher plants share the rare habitat. Each evening we paused to watch the sky change colors while the sun set. We listened to a powerful storm roll in and trees crack around us in New Hampshire and we saw stars at night- everywhere. In Maine, it looked like a dome overhead and slipping out to the "outhouse" at night featured a ceiling of sparkling stars, God's masterpiece.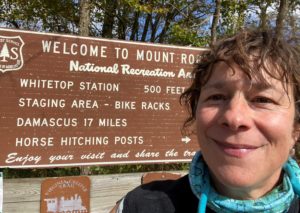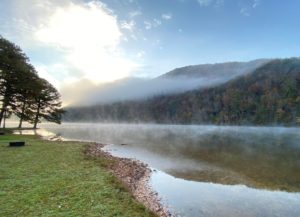 This weekend, settled back in at home, fully unpacked and cleaned up and caught up, I had some post trip "down time," and was feeling weary of the marathon that we are all part of. We aren't sure when this season will end and how it will look. But I am deeply grateful for the outdoors and places to roam. What a comfort that is! Gordon and I were blessed to have been able to take such a big trip with friends and to be welcomed in so many places. When our three weeks was coming to an end, there was a part of me that wanted to continue the road trip on to a 13th state, but another part felt the pull of home where Gardner and Brooks were dog sitting Liza and Henry. I had the "horse heading for the barn" mindset. We pulled into the Pinecrest driveway at 8:00 last Monday night, and Brooks burst out the door wearing his pajamas and squealing, "Nay! Pop Pop!" He gave us the biggest and tightest hug. With that and all the dog slobber- I knew that there's no place like home. We had chased fall throughout New England and returned to the Carolina Mountains to find it waiting for us.
Cheers Illahee Family!
Laurie