If anyone had said to 2019 Gardner, "A year from now your trendiest outfit accessory will be an N-95 mask," I would have stared blankly; little did I know my 2020 Google search history would frequently include "What's the best mask with filter?" This year has been a year of unusual questions. Questions we never thought we would be asking! It has also been a year of "waiting." Yesterday in our weekly directors meeting, Gretchen shared her goal of remaining "present" during this season as we gear up for camp. She reminded us of the peace that comes with breathing in and taking in each moment, without thinking too far ahead at the "how" details. Those will come. 
Easier said than done. Especially for a group of camp directors whose year revolves around planning a large gathering that lasts ten straight weeks. While we may not have an answer to every question, what we do have is a certainty that girls (and WE) need camp now more than ever. 
Today begins a series to answer a question: Why Camp? We asked our Junior Counselors to help us answer that question! These young women grew up going to Illahee, and will be returning as leaders this summer for their first year on staff. Who better to share their experience than current Illahee girls? 
Junior counselor Marshall, an eight year camper from Nashville reflects on her experience and the confidence she gained as a second grader, during her first year at Illahee: 
I was 7 and filled with nerves and excitement when I went for my first summer at Illahee,. I couldn't believe I was about to have a whole week away from home. I don't remember many details from my life at that age, but I remember struggling with a stutter. Sometimes, I would be afraid to speak to new people. My early years at camp were a big help and by the end of my second summer, I had stopped thinking about it entirely. Camp pushed me outside of my comfort zone in the best way possible and I grew in confidence, self-assuredness, and faith. Even after one year, I returned home with new friends around the country, more confidence, merely a minor speech impediment, and the certainty that I had found a second home. 
Camp increasingly became the place I could be myself and meet new people. The friendships I found at camp are some I cherish today, and I am so grateful for the amazing staff and counselors that made my experience so incredible. I am looking forward to my first summer as a counselor this year, with the same nerves and excitement I felt before my very first summer. I can't wait to be a mentor and friend to young campers and to help cause positive change in their lives as my counselors did for me.
Camp is a beautiful place and is even more important. this year as it will allow campers and counselors alike to escape the stress this year has brought. I am eternally grateful for all of the memories and smiles and can't wait to see everyone again in the Heavenly!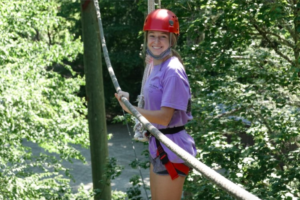 (Marshall during her most recent summer at camp)
Check back in for next week's  encouraging Why Camp feature! 
-Gardner