We have some Big News! Marie Armbruster and Turner Strayhorn will be joining the year-round Illahee director team in April. Marie will be Program Director and Turner will focus on the Facilities and Technology for camp. We are excited to see what this avid outdoors-loving couple will bring to Illahee. Marie completed her master's in chemical engineering at the University of Colorado in Boulder in January, and Turner has been a software developer for Amazon since his 2017 graduation from Vanderbilt.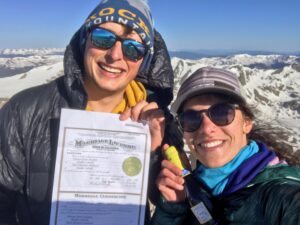 They married last June on a Rocky Mountain 'fourteener' when Covid forced a change from their planned camp wedding in May. Both are looking forward to moving back east to the Heavenly World.
Growing up at a girls' camp, Turner spent summers away at boys' camps- High Rocks, Falling Creek and Camp Carolina. He credits his love for the outdoors and "comfort outside of his comfort zone" with those camp experiences.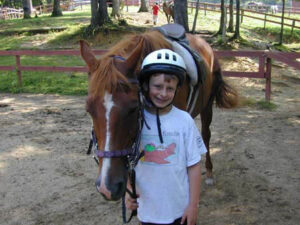 He remembers his fear of heights during his first camp summer at High Rocks and the support system of counselors and friends encouraging him toward the top of the climbing tower after tear-filled attempts. He eventually worked through the fear and it's a good thing; he met Marie at the Vanderbilt climbing gym during college. Turner believes that growing up at camp gave him the foundation to pursue a trail-building summer in Alaska; a season as a guide at The Gorge Zipline and three summers on the climbing and kayaking staff at Illahee. After moving to Seattle, then Boulder, he took up paragliding, backcountry skiing and of course, he continues to climb with Marie.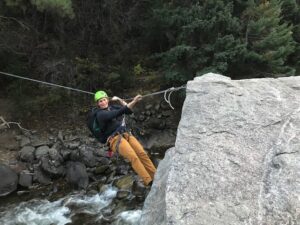 Marie's determination and adventurous spirit showed through her college career as a triple major at an already tough school: chemistry, chemical engineering, and Spanish! A Fulbright Scholar, she spent a post-grad year teaching in Spain and took weekends and holidays to climb and backpack along the coast. She spent her final two weeks abroad, solo hiking Sweden's 440K Kungsleden trail.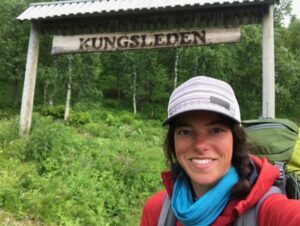 Marie spent two summers on the climbing staff at Illahee, and states that she wished she had been a camper but "I'm glad I found it when I did." Marie believes that camp gives girls the chance to try new things- even things that they may not be good at. "At camp you get to be a beginner in a supportive environment. The in-person interaction of women, especially now, is such an important part of the camp experience." After two years focused on research, Marie is most looking forward to being around people at her work and "being able to do things that make someone's day better."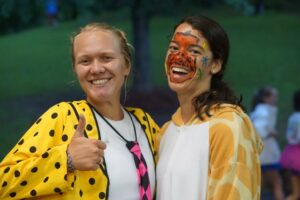 In her role developing camp's programs, she'd like to get more girls out on trips having new adventures. She also loves to garden and is excited to develop the farm garden and the nature programs. "I am excited to learn about other activities as well since my summers at Illahee were focused on the climbing program."
Turner is most excited about working to develop the camp's facilities in a way that makes it the "backdrop for camp's magic to happen." He wants camp to be "the place you come back to summer after summer where it's easy to be yourself and do awesome activities and have a great time."
Turner's years at Amazon helped him dive into projects headfirst. "Problem solving is the core of what I do as a software developer. It has given me insight into what does and doesn't work with team projects." When not pursuing the outdoors, Turner enjoys woodworking projects and recently started sewing gear after finding a machine at Goodwill. "I really like the process of designing patterns and sewing them into clothes to see how they fit." He surprised Gordon with a fleece beanie last week, and we have all put in orders for our own fleece pullovers. (Hmm…handmade custom Ship Store items?)
Marie is looking forward to being closer to family having grown up in Lexington and with parents living on Lake Norris in northeast Tennessee. She plans to take up mountain biking and they are both excited to get a puppy after the summer. They will live at Hannah Ford Farm and will be moving to Brevard in April – just in time to help us get ready for the BEST SUMMER EVER!