The fall-colored mums and pumpkin displays have begun making appearances on the neighborhood stoops. October is here! Since moving to S.C. fall seems like a distant reach- the season we are currently in is one long extension of summer. It's hot and humid with a capital "H"; we are thankful for new friends with swimming pools and working air conditioning.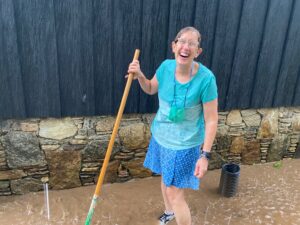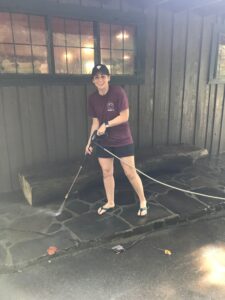 Since ending camp, we have stayed busy! I got married at Illahee two weeks after closing day and the weeks leading up to the date were spent "putting on the glitz" as we call it. This essentially meant that every person at camp armed themselves with a pressure washer, paintbrush, or rake, and combed every inch of camp to perfection. I missed most of that fun getting settled into the new city life. All we have to say, is thank goodness we aren't a wedding venue. The weekend was magical, and we will surely have more details to share soon.
Amidst camp ending and wedding celebrations, we have felt incredibly grateful. The months and days leading up to this camp season were long and tense. The stress of going into summer 2021 was bigger than ever, and the "what if" questions were frequent.  The joy and gratitude of all being back together carried us through a successful camp season. It was an amazing summer- there was the usual laughter and silliness, mixed with some tears and a lot of growth. We needed it. We could not have done it without our camp families, nurses, medical and camp experts, and especially our awesome staff, who trusted us and each other and did everything they could to help make this a safe and healthy summer. We can't wait to be back together next summer.
We opened enrollment for summer 2022 in August and received a record number of applications! We are currently full in all of our sessions, except for the Junior session. We expect that session to fill in the next month or so. We will be hosting two Open Houses at camp; October 23rd and November 6th. Come visit during these dates, or share with a friend who might be interested in learning more about Illahee! We also offer tours throughout the off-season for those who want to come see camp, call the office to set up a tour date- 828-883-2181.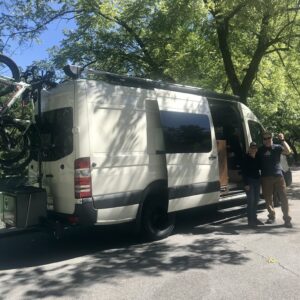 As we start to plan for the upcoming summer, the next few months will bring some much needed R&R. Lindsey will head to visit family next week to meet her newest nephew- they just welcomed the third Guye baby boy into the world! Laurie and Gordon are on a three week Sprinter van excursion. They began in Brevard and stopped in North Adams, Massachusetts for the Fresh Grass music festival. Their next stop was Randolph, NH for some hiking, and today, they crossed the border into Canada. They are covering some ground!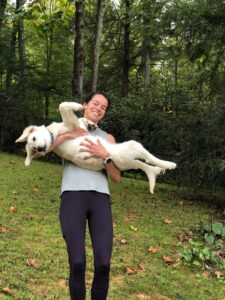 Marie and Turner have been busy parenting Butters, the newest camp pup. He is an English Golden Retriever and a great addition to the pack. He is calm and well-behaved…and so fluffy! Gretchen has spent many evenings cheering on her son, Ezra, in his Cross Country meets. Brevard High-school has a great team and is slated to be possible victors in their division. Ezra turns 15 soon, so Gretchen and Gary are bracing themselves for a teen behind the wheel!
We are looking forward to leaves changing and this quiet season. Stay tuned for more news and updates from camp!
Thanks for reading, Illahee family!
-Gardner