Illahee girls dream about a camp wedding and on August 28th Gardner and Lucas' wedding made that a reality! Camp weddings are few and far between, and we thought you might enjoy some of the inside scoop. As the M.O.B. I was able to enjoy the celebration first hand, especially knowing that Gardner was being hitched to a great guy. The 2020 girls at Leadership Camp got to know Lucas serving up food in the dining hall. (But that's another story.) When we started meeting with Gina of Organically You Events, Gardner made it clear that she didn't want a BBQ or bag supper event and that's when we started planning the Royal Wedding.
What could be better than the ceremony in the Woodland Chapel and Reception in the Tilley Lodge? We even had Gordon and Turner's awning out in front of the porch which had offered outdoor seating for campers. Gina kept the plans moving and the wedding checklist up to date, but the wedding seemed distant until closing day when Gardner and Brooks loaded the UHAUL trailer and Lucas drove them away to their new home in Columbia, SC! We had no time to be sentimental…there was work to be done. We had two weeks to get it together!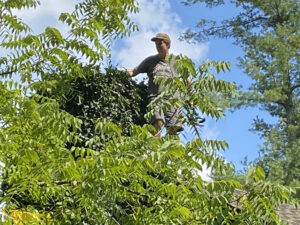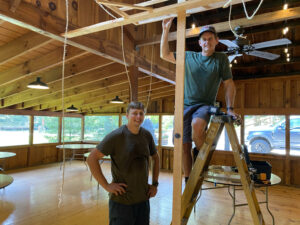 Gordon has a great eye for details and it shows. You all know how beautiful camp looks on opening day…white gravel perfectly raked and blown; pine straw fluffed around the hydrangeas; barrels filled with flowers. The countdown to the royal wedding was like opening day on steroids! We had a little set back when 11 inches of rain fell in under 12 hours, but sandbags, pressure washers and some muscle got things back in order. If it didn't move, we pressure washed it…the driveway, the office, the dining hall porch; the benches of the Woodland Chapel. All surfaces were scrubbed clean and coats of green paint were applied to trim. The guys cut back trees around the Woodland Chapel opening up the view to the lake and to the steps coming down from Pinecrest. Then they covered the ground under the benches and to the pulpit with a fresh blanket of shavings.
A few days before the wedding, we moved every chair and most tables out of the dining hall to make room for farm tables and "fancy" chairs with cushions. Gordon and Turner built a frame over the dance floor to suspend flowers and greenery, and I scrubbed out the dining hall hearth taking out layers of red clay to find Camp Illahee 1921 etched into the stone hearth. On Thursday, two cargo trucks filled with chairs, tables, dishes, glasses, silverware arrived and the magic transformation started.
Now it was time for the fun to begin! The wedding weekend began on Friday morning with a bridesmaid luncheon that Gretchen and Gardner's aunt Dell hosted at Marco's restaurant.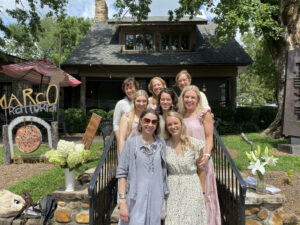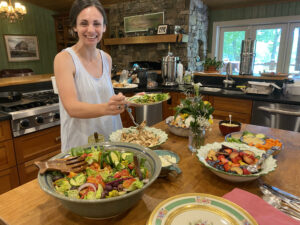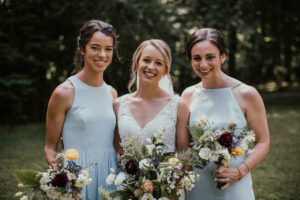 Future sister in laws Haley and Jenna, along with Marie and Lindsey were bridesmaids. Carter Tindall (who grew up at camp with parents Frank and Elizabeth) was maid of honor and Jessica Schwartz who Gardner met in 5th grade when we moved to Brevard was her matron of honor. Lucas' parents hosted a rocking rehearsal dinner party outdoors at music venue and brewery 185 King Street with delicious Hubba Hubba Smokehouse BBQ and bluegrass music from Unspoken Tradition. Gordon and Lucas' dad Wesley gave beautiful toasts highlighting the celebration.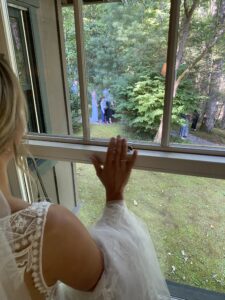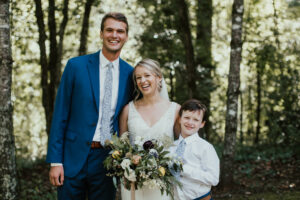 As camp people, you know how important community is, and gathering four generations of family members and a lifetime of friends is powerful. I wanted to take a deep breath and enjoy every moment. I spent most of the wedding day in the Pinecrest living room hanging out with the bridesmaids during the hair and make-up process; camp chef Terry delivered a delicious Greek salad and Gordon kept the champagne glasses and coffee cups full. Groomsmen were relegated to Pineview Lodge for the afternoon, but when the temperature cranked up, they hid out in the Pinecrest basement until picture time in the backyard. From the Pinecrest porch, we watched guests walk or ride across the dam in golf carts.
At 4:30 we lined up to begin the procession through the Pineview path past the cabins with camp dog Henry wearing a black bow tie leading the way. The Woodland Chapel steps are built for tennis shoes and not wedding shoes. Gardner literally hit a snag when her veil caught on a railroad tie. Gordon ended up draping it over his arm as they processed down to the chapel where Lucas and Pastor Dawn were waiting.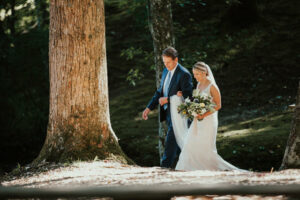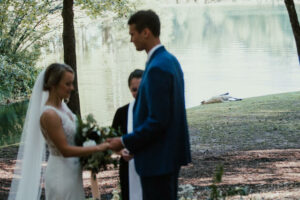 Dawn is the lead pastor at Downtown Church in Columbia, and is Lucas' "boss." It was obvious that she knew them both personally and understood the camp world. She talked about their long distance courtship during the summer when Gardner was at camp and Lucas was a hospital chaplain on a different schedule. To communicate, they had to resort to leaving voicemails for each other. Brooks interrupted Dawn to let everyone know that one VM was 4 minutes long! A few family photos followed the ceremony and then on to the reception.
During cocktail hour, we had an iced tea and lemonade station available. Brooks and his cousin Nicolas quickly got to work hustling glasses of lemonade. I didn't realize that they were charging guests and actually building up quite an account. By the end of the evening they had pocketed $85!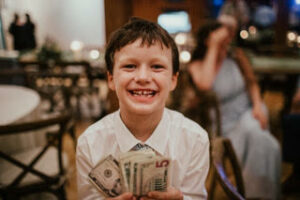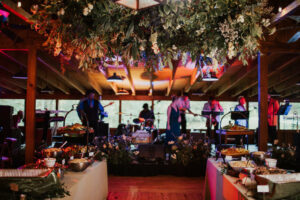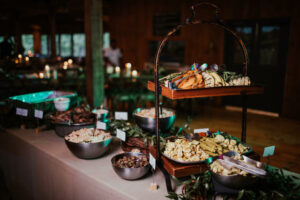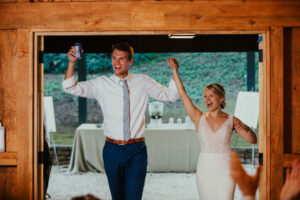 The dining hall was breath-taking with flowers done by one of Gardner's talented friends who owns Petal and Fern; Dinner was catered by The Colorful Palate, and Gordon served Illahe Pinot Noir. (Even though the spelling is off, we couldn't resist the connection.) Orange Krushkept us dancing through the evening.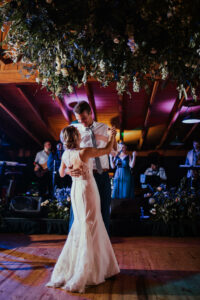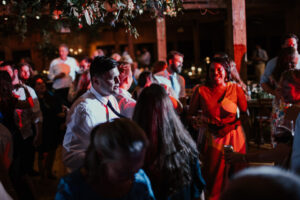 We had a Sparkler send off from the front porch of the dining hall as Lucas and Gardner prepared for their get-away. They made a slight detour through the swim lake before ending the evening with a Splash. I couldn't have had more fun or been happier- unless we could have slowed down time. After all the planning and anticipation, the evening flew by in a blink! But so many things are like that reminding me to savor the journey and enjoy the process. After all, there are many happy moments on the way to a Royal Wedding!
Cheers, Illahee Family!
Laurie