Happy December, Illahee Explorers!
This summer, hundreds of campers set off on out-of-camp trips. No river was left unpaddled, no rock unclimbed, no trail untrodden. It. was. epic.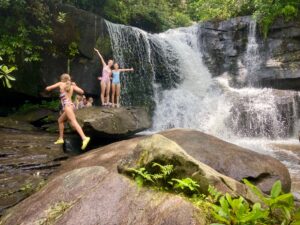 Then, before we could blink, everyone headed back to their respective corners of the world. We packed away all the PFDs, harnesses, and packs. The leaves turned, and summer finally gave way to autumn. "Trippin' Becky," you might ask, "what do you do when summer adventure season ends?" Contrary to popular belief, I don't actually go into hibernation for nine months while I wait for May to roll around, though that sounds pretty nice right about now. Instead, I keep trippin' right into fall!
That's right; I spend fall and winter the same way I spend summer: exploring the trails, mountains, and waterfalls of Transylvania County. Sure, the trips are a little on the quiet side. I don't have to share my Oreo stash with anyone. I get to pick all the music in the van. I no longer find half a dozen abandoned water bottles in Willow. No one asks me if flip-flops count as water shoes. (They don't.) But I miss the singing, the laughing, and even the occasional "are we there yet??" Most of all, though, I miss watching each of you become part of the next generation of outdoor adventurers. Some of you have a keen eye for spotting snails inching up poplar trees. Some of you prefer to splash at the base of waterfalls for hours on end. Some of you can paddle the Nantahala with the best of them. Some of you, I'm convinced, could summit the Nose blindfolded. Some of you love nothing more than a photo op on the Parkway. Some of you have tackled multi-day backpacking trips through the heart of Pisgah. Adventures, like people, come in all shapes and sizes—and all of them are awesome!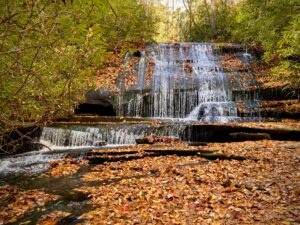 Whether you're enjoying a half-day hike in DuPont or attempting a one-match fire on a rock climbing overnight in Linville, there's always something else to see, do, and learn outside. So, with you all in mind, I've spent a little extra time scouting even MORE new trips for summer 2023!! Double-knot your laces, grab your sunscreen, and fill up your water bottle, because this summer you'll have a chance to dive into pristine swimming holes, discover new sights, and climb to higher heights.
In the meantime, I'll be printing off fresh sign-up sheets, stocking up on trail snacks (I may or may not have eaten all those Oreos I mentioned earlier), and looking forward to more summer adventures with the greatest girls I know!
Keep trippin',
Dr. Becky