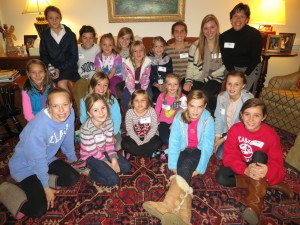 I may need a new travel agent….six flights in seven days!  What was I thinking? Asheville to Tampa to Ormond Beach to Houston to Dallas to New Orleans and back home in time to drive over to enjoy camp movies with Raleigh girls and counselors who trekked over from UNC Chapel Hill!  While it has been a whirlwind of miles covered, the travel season has made us especially thankful for Camp Illahee and the community.  Gretchen, Kris and I have been visiting camp families for the past few weeks and enjoying the reunions and warm hospitality of our camp representatives. Campers of all ages and parents have joined us in homes all over the Southeast for the debut of the 2012 highlights DVD. This year's movie is a hit, especially with last summer's favorite camp song "What Makes You Beautiful", by One Direction playing in the background.  Don't worry! The video will be posted on the website for all to enjoy before Christmas!
The best part of the camp shows is getting to catch up with families and visiting with the campers. The older girls are great about welcoming the younger campers and giving them advice about what to look forward to in the summer.  By the way, the biggest advice so far is to bring a few costume accessories!  We do lots of dressing up at camp and that's evident in the photos and movies!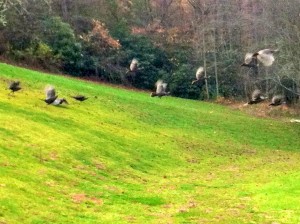 In Greensboro, Kris and Gretchen were helping to greet at the front door.  One of last summer's junior campers came in and looked surprised.  She said, "Kris and Gretchen!  I didn't know that you live in Greensboro too!"  When I was in Raleigh, one of our younger campers was excited to see her counselor, a UNC freshman, at the camp show, but she was a little confused about what she was doing so far away from Cabin 1.  She asked if she could go on back to camp with her after the movie.  We all have an image of camp frozen in time waiting to come back to life when the campers arrive.
Back in camp, we have been cleaning up the leaves and enjoying the wildlife.  It's a great time of year to enjoy hiking and we are regularly seeing deer at camp down in the pasture.  The other afternoon we saw 18 wild turkeys over on Hannah Ford Farm.  Liza and Newton didn't notice them until they flew off and then it was too late to chase them.  I was wondering how wild turkey would taste for Thanksgiving but I think I'll stick with Ingles best this year!
We have enjoyed hearing from lots of counselors as they are sending in their applications for next summer.  There will be lots of familiar faces back on staff along with new friends!  And on the camp property, we have been working on sprucing up the cabin line.  All of the bathrooms on Hillbrook and Hi Ho are being re-done! It may not be the most "glamorous" of construction projects but definitely is a project we will appreciate next summer!  We look forward to hearing from many of our families during the holiday season.  We hope that it is a season of blessing and thanksgiving for each of you. Laurie.