Today's pleasant highlight was a McLeod porch visit with alums Ellis Pearce and Brevard resident Kitty Coleman Neff who chose Illahee as a spot to catch up, tell camp stories, and enjoy a picnic. Friends since the 1960's when Ellis was a camper and Kitty a counselor, their camp experience spans generations and groups of friends. Kitty was five years old her first camp summer, insisting that she join her older sisters at camp; later she was a "mama counselor" while her daughters attended Illahee. Little did she know her son Frank Tindall would direct Illahee with his wife Elizabeth from 1986 to 2002. A Greenville native, Ellis was a camper during the 1960's and a counselor when Frankie directed camp in the '70's. Ellis and Kitty are major Illahee cheerleaders and we'v always enjoyed their camp spirit and sense of humor. Ellis introduced Kitty to her favorite humorist Jeanne Robertson, via You Tube today. I think we all appreciate a laugh more than ever right now.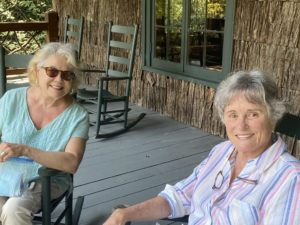 As someone who likes to engage a "village" in any project, my solo week at camp has been a little more quiet than I'd like, especially with fewer visitors now that camp families are focused on a stressful back to school process. My heart goes out to our campers and the challenges of adjusting to virtual classes and part time "in person" attendance. Brooks started 1st grade last week with Monday/ Wednesday attending in person and Ezra is in 8th grade following the same schedule. We're getting used to wearing masks all day along with the new routine and Gretchen is relearning 8th grade math.
Next week, our year round team will be back together after a month apart, giving us time to transition from a strange summer season. I'm looking forward to the energy as we come back together to plan for summer 2021, a new year and a new season.
Blessings to you, Illahee family.
Laurie