We all can use some good news during this season… we have a recent wedding and an engagement to tell you about! With large scale parties "on hold" for the near future, Turner and Marie tied the knot on a Colorado mountain top in June! While their event was a little different from the wedding that Gardner had imagined for them when announcing their engagement in September 2018, it was just as joyful. The two are settled in Boulder where Marie is in graduate school and Turner is writing code for Amazon. Turner's newest hobbies include paragliding and experimenting with his outdoor pizza oven (not at the same time). Marie dove into gardening during the spring quarantine and had quite a summer harvest before last week's early snow hit. On the weekends she does endurance runs in the Colorado mountains. She worked on climbing staff in 2017 and as director in 2018 and Illahee girls may remember trying to keep up with her on the trail.
And other happy news is Gardner's engagement to Lucas, who proposed two weeks ago in Panthertown Valley, a favorite family hiking spot! We, along with the campers who got to know him at leadership camp in July are thrilled. Lucas won our hearts helping to run the kitchen, when it was "all hands on deck!"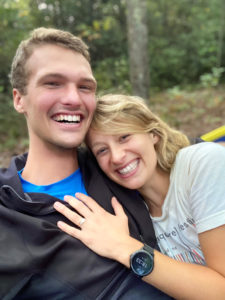 He graduated from seminary in May and recently began an associate pastor position in Columbia, SC. Gardner and Lucas enjoy chasing Brooks around the bike park and the camp swim lake and look forward to planning a wedding celebration!
We celebrated our own 34th anniversary in August on a mountain top hike in Pisgah! Hope these guys will be as happy as we are! You know what we say to that?
Cheers!
Laurie